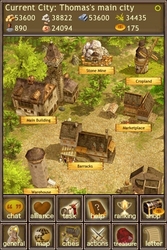 Really good game, very different to all those other mmo on the iPhone, you get to gather up resources, upgrade buildings, build troops and hunt for treasure and battle enemies :) such endless fun!!
New York, NY (PRWEB) June 14, 2010
Haypi Kingdom has attracted increasing attention over the recent months. It remains among Top 100 in App Store's USA Top Grossing ranking. Some major investors have showed great interest and are keeping in touch with the company.
Haypi Kingdom is a massively multiplayer online game for the iPhone, iPod Touch and iPad. Thanks to the excellent interactive capability, this mobile multiplayer online game has achieved an amazing success. In an elaborately organized friendly environment a significant number of players chat, collaborate, compete and interact in the game.
About Haypi Co., Ltd.
Haypi Co., Ltd. is an innovative developer and publisher of entertainment software. It is committed to designing massively multiplayer online games for mobile devices like the iPhone, iPod Touch and iPad. The games were and will be developed in accordance with the company's ethos of providing gripping and fascinating products.