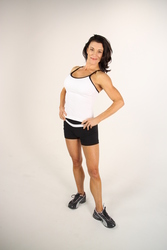 "We are thrilled that Collage included us in their top ten best video list," said Tracie Long, Founder of Tracie Long Fitness. "This recognition is proof that it is never too late to get your groove back."
Charleston, SC (PRWEB) June 14, 2010
Tracie Long Fitness' cardio conditioning workout, Staying Power, has secured the number seven spot on Collage Video's Guide to Exercise Videos, one of the nation's largest fitness video online retailers.
"We are thrilled that Collage included us in their top ten best video list," said Tracie Long, Founder of Tracie Long Fitness. "This recognition is proof that it is never too late to get your groove back."
Sharing the spotlight with the likes of Jillian Michaels and Cathe Friedrich, Mrs. Long has set the stage for a successful return to the fitness video market after a six-year hiatus. Staying Power is one of four videos in the Longevity Series and achieved a national ranking for sales within six months of its release. The four DVD set was developed to appeal to women who devote their lives to family, career and community, often neglecting their own goals for health and longevity.
Staying Power features medium to high intensity medicine ball cardio and hi-rep, light weight conditioning moves. This fast-paced, sixty minute workout keeps your heart pumping while sculpting sexy shoulders, increasing core strength and leaning out through the hips, butt and inner and outer thighs. The Longevity Series companion videos include Defining Shape, a total body strength workout, Step Forward, a cardio and leg conditioning workout and Back Up, a back strengthening workout that includes an extended stretch.
At age 42, Mrs. Long wants to empower women to look and feel their personal best regardless of age or physical ability. The national ranking comes on the heels of opening Tracie Long Fitness' studio in Charleston, SC and the release of another 4-DVD series of workouts called Focus.
About Tracie Long Fitness
Mrs. Long's mission is fueled by a lifelong devotion to fitness. Her objective is to help others throughout the world prioritize their own goals for self care and exercise with easy-to-follow, self paced DVDs and studio classes.
Tracie Long Fitness is located at 360 Concord Street, Suite 102 Charleston, SC 29401. Visit us at http://www.tracielongfitness.com.
Media Contact:
Allison Foster
843.530.2238
# # #