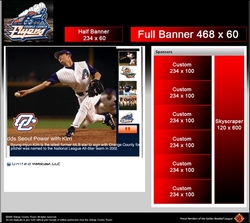 webcasts will provide fans, family members, and friends of both the OC Flyers and the visiting teams an opportunity to watch their favorite players from anywhere in the world
Fullerton, CA (PRWEB) June 25, 2010
The Orange County County Flyers independent professional minor league baseball team announced today that all home games during the 2010 season will be broadcast over the internet. The internet broadcasts, also known as webcasts, will be produced and hosted by Fullerton-based United Webcast. The multi-camera webcast will be broadcast from Goodwin Field on the campus of Cal State University, Fullerton, and will include play-by-play audio. Archived webcasts of the Flyers games will also be available. The webcasts may be viewed at http://www.watchtheflyers.com.
"This multi-year project exemplifies our commitment to the community and to baseball in general," states Daniel MacLeith, COO of the Orange County Flyers team. "The webcasts will provide fans, family members, and friends of both the Orange County Flyers and the visiting teams an opportunity to watch their favorite players from anywhere in the world," described MacLeith.
About United Webcast:
United Webcast provides webcasting, marketing and advertising solutions to sports producers, radio stations, videographers, and businesses in numerous industries. The company, based in Fullerton, California customizes solutions to meet the unique needs of each client. Offering either mobile or installed webcasting solutions, the company offers multiple sites from which clients may broadcast content. Client may choose an optional hosted website may be created using the company's content management system built specifically for webcasting management. For more information visit http://www.unitedwebcast.com.
###