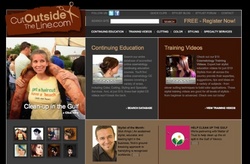 Right now, what Matter of Trust needs is not just hair for the booms, but nylons to stuff with hair and warehouse space to store the booms
Stow, OH (PRWEB) June 14, 2010
When Matt White and Andrew Pietz, co-owners of the hair stylist education website, CutOutsideTheLine.com, saw the devastation caused (and to be caused) by the BP oil spill in the Gulf of Mexico, they thought there had to be some way they could help in the clean up. Soon after, they discovered Matter of Trust, an ecological public charity that concentrates on manmade surplus, natural surplus and eco-education, and they knew what they could do.
One area that Matter of Trust is currently focused on is the production of naturally renewable booms for collecting oil floating in the Gulf and reaching beaches and communities right now. These booms are created with hair, fur and wool clippings donated by salons, pet groomers and farmers.
"We're participating in the Matter of Trust program already at my salon," said Andrew Pietz, who also owns Texture Studio and Spa in Stow, Ohio, south of Cleveland. "Then I heard they were having to turn down donations because they don't have enough storage space for the hair coming in."
And that is what led to the idea for CutOutsideTheLine.com. "Right now, what Matter of Trust needs is not just hair for the booms, but nylons to stuff with hair and warehouse space to store the booms," said White.
So, CutOutsideTheLine.com, with its natural connection to the hair industry, provided a perfect platform to help Matter of Trust where it needs it most right now…financial support. From now until at least the end of the year, CutOutsideTheLine.com will donate half of all revenues from its online hair stylist education videos to Matter of Trust. Five dollars from every training video and $7.50 from every continuing education video (currently accredited in Ohio) will be donated to Matter of Trust.
"Our hope is to raise at least $50,000 for Matter of Trust in the next six months," said White. "If 10,000 stylists from across the country purchased just one single training video, that's all we'd need. And, if 25,000 videos are viewed, that would be at least $125,000 donated! There's no cap on this donation."
$50,000 will provide the resources needed for 18 months of warehouse rent and more than 18 miles of recyclable nylons to be used for the hair-stuffed booms.
The most recent data from the Bureau of Labor Statistics estimates there are approximately 670,000 barbers, hairstylists, hairdressers and cosmetologists in the United States. So, this goal does not seem out of reach. Plus, CutOutsideTheLine.com is currently in talks with several big names in the industry and plans to partner with as many companies who are willing to get involved as well.
To help in the Gulf clean up effort AND receive quality hair stylist education visit http://www.CutOutsideTheLine.com.
About CutOutsideTheLine.com
CutOutsideTheLine.com is an online resource for the cosmetology industry and includes hair stylist education videos, featured stylist profiles, product highlights and an inspiring photo gallery. CutOutsideTheLine.com education videos cover everything from clever cutting techniques to bold color applications.
Visit http://www.CutOutsideTheLine.com to learn more and to browse the ever-growing library of hair stylist education videos.
About Matter of Trust
Matter of Trust, established in 1998 in San Francisco, is an ecological public charity that links ideas, sparks action and materializes flourishing systems. It concentrates on manmade surplus, natural surplus and eco-education. For more information, please visit http://www.MatterofTrust.org.
# # #