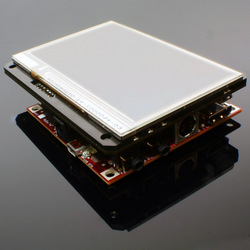 With high-performance, modular open source hardware, proof-of-concept and even product, can be accomplished for a few hundred dollars in a matter of days.
Boston, MA (PRWEB) June 14, 2010
Liquidware announces 3 new modules for the popular Beagle Board embedded Linux and Android OS platform, designed to assist rapid prototyping Open Source hardware gadgets.
The BeagleTouch is a 4.3" touchscreen module with a specialty high-contrast, wide viewing angle organic LED display. When paired with the high-performance Lithium Ion BeagleJuice module, the Beagle Board becomes a handheld tablet computer, pre-loaded with Linux, and capable of running the Android operating system. A full line of sensors, including accelerometer, GPS, light sensor, and heart beat sensor, are readily connected using the BeagleMod prototyping board.
The Beagle Board community of designers and engineers has grown dramatically in the past year, as Open Source programmers port Android, Linux, and Windows to the high speed TI OMAP ARM-based processor. Engineers favor the Beagle Board platform over other prototyping systems because of the wide availability of open source software designed to run out of the box on the board, in addition to the combined high speed, low power consumption. It is no surprise that the TI OMAP chip found in the Beagle Board is expected to be used in forthcoming Android and Linux based smart phones, as well as high-end medical devices.
Liquidware's modules represent a dramatic change in how consumer, medical technology devices are rapidly prototyped and designed. Former development processes lasted 6-12 months, and required product companies to retain long, costly engineering contracts before achieving non-functional proof-of-concept. Now, in a fraction of the time and cost, engineers can deliver fully functional gadget prototypes. This is achieved through the concept of "architectural innovation", which builds on the concept of "modular innovation."
Modular innovation means designing discrete "building blocks" that interconnect with each other and form higher levels of complexity. In theory, this allows engineers to assemble building blocks in infinite combination quickly to create higher level complexity designs and gadgets. In practice, modularity alone is limiting, because the interface between each module often represents many weeks of work, as engineers struggle to get each module to communicate effectively with each other.
Architectural innovation takes modular rapid prototyping one step further. Architectural innovation means modules are designed purposefully to connect to each other functionally, dramatically reducing the "barrier effort" getting each module to talk to one another. The system as a whole is designed to optimize speed to completed product, rather than infinite combination of modules. The result means a product may be successfully designed, deployed, and pitched, in dramatically less time – and cost.
About Liquidware
Liquidware is one of the fastest growing engineering firms, specializing in high speed, lower power embedded systems product design, rapid prototyping of medical devices, parallel systems, and defense engineering.
Liquidware is also one of the most widely recognized organizations of Open Source Hardware hackers, originally founded as a partnership between inthebitz, antipasto, and avrman. Based in Boston, MA, Liquidware has three primary lines of business: high end medical device development, defense systems engineering, and Open Source Hardware design. Liquidware's hardware has been used by some of the world's leading research institutions, consumer product firms, and is deployed in field operations worldwide.
Trademarks
OMAP and Beagle Board are trademarks of Texas Instruments. ARM is a trademark of ARM Limited. All other trademarks and registered trademarks are the property of their respective owners.
Editorial Contact for Liquidware
Justin Huynh
Liquidware, Press Manager
(646) 835-9728
liquidware.press(at)gmail(dot)com
http://www.liquidware.com
###