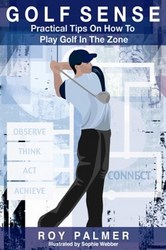 Roy Palmer has created a valuable resource for all golfers. No matter what your skill level is, you can not fail to benefit from Roy's advice. I recommend this book to anyone, beginner or pro, who wants to give their game a mental boost.
(PRWEB) June 15, 2010
Golfers of all abilities complain about the erratic nature of their game and yet often struggle to find the cause. They play two great shots to get onto the green and then fluff the easiest of putts. Surprisingly, the reason has little to do with skill and everything to do with something few consider; habit.
Habit makes golfers unknowingly do things they really don't want to do. For example, Palmer suggests players should check whether they lift their shoulders before playing a shot. It's a common habit for many, yet completely unnecessary and can have a detrimental influence on the outcome. Yet, if players are unaware of these habits, it brings an unknown element to their game beyond their control.
Palmer highlights many such examples in his book and includes simple, practical golf tips for players of all abilities to recognize and correct bad habits. His book also reveals:

Common errors players don't realize they're doing and how to stop them.
How to achieve the ideal state of mind for playing the best golf.
The single, most effective lesson that transforms any golfer's game.
Palmer believes a consistent golfer is a successful golfer and invites players keen to improve their game to download a preview copy of Golf Sense here. The book is available worldwide from Amazon, Barnes & Noble, Fishpond, The Book Depository and also from the author's website at Play Better Golf
About Golf Sense
Author: Roy Palmer
Title: Golf Sense: Practical Tips On How To Play Golf In The Zone
ISBN: 978-0956259301
Format: Paperback 6" x 9", 156 pages
Publisher: FrontRunner Publications
About Roy Palmer
Roy Palmer is a teacher of The Alexander Technique, the world-renowned movement re-education system and expert on the sporting phenomenon known as The Zone. He has over 25 years experience in competitive sport and has spent the last 15 studying performance enhancement for players of all sports. Golf Sense is his third book on the subject of The Zone. To access Roy Palmer's press kit please click here .
Permission to reprint
Journalists, newsletter publishers, bloggers and others: You may use material from the preview copy mentioned above or any of the articles from my website below.
###