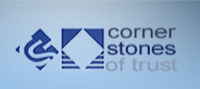 If you're in the security community, or want to know more about it, this is the place to meet top security experts from business, technology, standards, and compliance communities.
San Francisco, CA (PRWEB) June 15, 2010
Join us on Tuesday, June 29, 2010 at the Crowne Plaza, Foster City, as we present our annual security conference Cornerstones of Trust 2010 - Weathering the Storm, sponsored by the San Francisco and Silicon Valley Chapters of the ISSA, along with the San Francisco Bay Area InfraGard Chapter. With four parallel tracks and a handful of carefully selected sponsors, Cornerstones of Trust is your best value to keep abreast of the changing security landscape, network with your peers, and earn continuing professional education credits (CPEs) in an intimate setting of 250-300 attendees.
"Whether you are a security leader or security practitioner, the Cornerstones of Trust 2010 conference keeps your weather eye open to the deluge of information services in the cloud, bot-nets with advanced persistent threats or the waves of regulatory and compliance requirements." said Mark Kadrich, president of the Silicon Valley Chapter of the ISSA
Are we seeing the rainbow after the rain, or are we in the eye of the hurricane? Organizations need to forecast trends and develop responses to the challenges like increasing cost pressures, rising security complexity, changing delivery models, evolving threat landscape and emerging technology disruptors.
Security and privacy leaders should examine the threats and opportunities to weather the changing times. What does the storm look like from your perspective? Is it preventing or responding to a data breach? Is it preparing for the cloud? Is it the data explosion and data mobility? Or, is it closer to home - how to survive as an Information Security professional?
This year's conference brings together over 30 senior security professionals presenting best practices, technology solutions, case studies and real world simulations designed to educate and support the staff responsible for keeping today's always-on infrastructure safe. Our speakers come from many of the world's most innovative organizations such as eBay, Cloud Security Alliance, Empowered Alliances, FireEye, Symantec, HBgary, HP, MyKnonos, Oracle, UC-Berkeley, UC-Santa Cruz and VeriSign to name few.
Mark Weatherford, CISO of the State of California, starts the day with a talk on the state of security in California. He will provide a realistic picture of the information explosion, mobile consumers and response to these challenges. Information technology in California is changing and along with it, the approach to securing the vast amount of information on businesses and citizens held by the state. Mr. Weatherford will explain how in a time of shrinking budgets and growing security requirements, creativity is the name of the game.
Brandon Dunlap, Managing Director of Research, Brightfly, will kick off the afternoon session discussing how security professionals need to consider their own measure of professional identity. As security practitioners, we are all well aware of the privacy concerns associated with social networking sites, but like any other risk, you need to balance it against the upside. Your personal brand is your most valuable professional asset. Mr. Dunlap shows you the value of your peer network and how, through the stewardship of your personal brand, you can use it as a force multiplier for your security program.
An afternoon keynote panel features the Chief Security Officer (CSO) Council, facilitated by Jacques R. Francoeur, Executive Director, discussing application and data security. Seasoned Chief Security Officers from leading organizations will be explaining how there is a paradigm shift in information security defense strategies from an "Outside In" to an "Inside Out" based approach.
Our sponsors for the 2010 Cornerstones of Trust Conference include over 20 security technology partners such as Platinum Level Sponsors ArcSight, ESET, Kaspersky, Palantir Technologies, and VeriSign. Our Gold Sponsors include Accuvant, Check Point Systems, Cisco Systems, Cyber-Ark, Emagined, FireEye, FishNet Security, Mykonos Software, NetWitness, SecureWorks, The Vantage Group, and Zscaler.
Cornerstones of Trust 2010 is designed as both an educational event and a catalyst to bring together the Bay Area security community for an ongoing exchange, focused on addressing the needs, interests and issues of security practitioners, managers, and executives like you.
"If you're in the security community, or want to know more about it, this is the place to meet top security experts from business, technology, standards, and compliance communities; learn about real world solutions; and find out how other companies have built an effective security framework to maintain trust in today's challenging environment." said Ron LaPedis, board member of the San Francisco Bay Area InfraGard Chapter.
For more information about the Conference go to: http://www.cornerstonesoftrust.com
If you'd like more information about this conference, or to schedule an interview with our speakers, call Ron LaPedis at (408) 392-4354 or email rlapedis(at)spyrus(dot)com or cornerstones(dot)of(dot)trust(at)gmail(dot)com
# # #