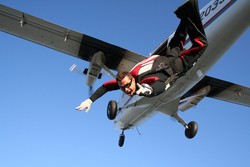 "I want people to understand that this event is not about skydiving. It's about letting folks know what Parkinson's disease is, how it affects people and families, and what they as individuals can do to help those living with the disease"
Savage, MN (PRWEB) June 15, 2010
Many people say they would do almost anything to help someone they love, but might draw the line at skydiving. How can jumping out of an airplane help anyone? Kevin Burkart of Prior Lake, MN has found a way to use an activity that he loves--skydiving—to raise money and awareness for Parkinson's disease (PD), which afflicts someone he loves, his father, Gary Burkart of Shell Lake, WI. On Wednesday, June 16, 2010, Kevin will jump from a plane 200 times over the course of the day at SkyDive Twin Cities in Baldwin, WI.
"I want people to understand that this event is not about skydiving. It's about letting folks know what Parkinson's disease is, how it affects people and families, and what they as individuals can do to help those living with the disease," said Burkart, a 37-year-old businessman who has been involved in many different PD events. His father, Gary Burkart was diagnosed in 1999. He won't be jumping with Kevin, but will be on hand, cheering for his son.
Those who want to learn more about PD and support Burkart's efforts to raise at least $60,000 are invited to join him at SkyDive Twin Cities. No skydives are required The event is free and open to the public. The skydiving will begin sometime before sunrise, with floodlights illuminating the target. It is expected to continue until about 9pm. There will be a large tent with chairs for spectators to watch the jumps, have a chance at some prizes, and listen to Dr. Steven Stein of Minnesota Clinic of Neurology, give an informational presentation on Parkinson's disease. T-shirts, prizes, food and beverages will available, with plenty of activities for kids—a moonwalk, coloring contest. However, parents must supervise their children. This is a handicapped-accessible event
Opportunities to sponsor a jump in honor or memory of someone affected by Parkinson's disease are still available. For a $100 donation, the name of the loved one, caregiver, or organization will be announced over the public address system prior to a jump. The sponsorship form, available online at http://www.perfectjumps.com/sponsor.html, also allows sponsors to provide a brief narrative about how the person(s) being honored are or were impacted by Parkinson's disease.
For directions to SkyDive Twin Cities, go online to http://www.skydivetwincities.com/directio.htm . Baldwin, WI is approximately 30 minutes from St. Paul.
Background:
Parkinson's disease is a progressive neurodegenerative disease in which cells that produce dopamine, a brain chemical that controls muscle movement, die or are damaged. Without enough dopamine, someone with PD may experience tremors (shaking), muscle rigidity, slowed movements and/or balance problems. In addition to the problems that Parkinson's can cause with movement, it can also affect a person's ability to make decisions, recall information, and multi-task.
Approximately one million Americans live with Parkinson's disease. This is only an estimate, because there is no test a doctor can perform to confirm the disease, and no national mechanism, such as a registry, to track the numbers of people living with the disease. PD affects slightly more men than women, and the average age at diagnosis is around 55 years. However, 15% or more of those living with PD were diagnosed at age 50 or younger. The cause of Parkinson's is not known, and a cure has not yet been found. Medications and surgical treatments can alleviate some of the symptoms for awhile, but the disease responds to treatment and progresses differently in each patient.
###