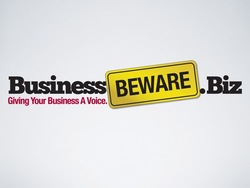 "We are standing up for the small business owners everywhere because they deserve a voice too."
(PRWEB) June 21, 2010
New website, Business Beware, lets business owners warn each other about difficult customers and hopefully work out the situation with them. Just like the Better Business Bureau, Business Beware lets businesses file complaints against a customer and the customer has the chance to file a rebuttal if they choose to.
Business Beware also offers a new service known as the "beware letter" that is like a collection letter. Collection agencies can charge you a percentage when you try and collect your money from customers but when you collect from the customer with Business Beware's letter you don't owe a penny. The letter is more of a "pre-warning" letter before you place that the customer on the website stating that you mainly want to collect the money that's owed to you.
The goal of this site is to help business owners "pre-qualify" their customers before they work with their customers and help them possibly work out the situation. Customers use the Better Business Bureau as their leverage, business owners can now use Business Beware as theirs.
# # #