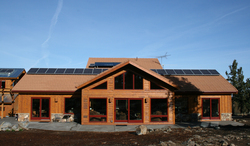 The home's carbon score was one fifth of the average US house. Earth Advantage gave this home a 'Platinum' rating, its highest rating.
Claremont, NH (PRWEB) June 15, 2010
Davis Frame Company, Inc. timber frame home designer and manufacturer located in Claremont, New Hampshire is proud to announce that one of their timber frame homes in Sisters, Oregon has earned a Platinum Earth Advantage certification.
Homeowners and Independent Representatives for Davis Timber Frame Company, Doug and Leanne Smith, worked on designing the home to be able to maintain a comfortable temperature based on its inherent structure and design and use of renewable energy for its power needs. They also used building materials that were recycled and durable, such as the roof and stainless steel counter tops. The timber frame home is off-grid; its electrical needs are supplied from batteries powered by photovoltaic panels. Solar hot water panels supply hot water for in-floor heating and domestic hot water. The house uses less than 500 gallons of propane a year for a back up boiler, a gas dryer, and all cooking.
The important elements of passive solar design were to enclose the home in high-insulation exterior walls and ceiling material and position the windows to maximize solar gain, yet minimize heat loss. The broad side of the home and the majority of its windows face primarily south for optimum solar exposure for winter heating and photovoltaic electricity generation. The north and west sides of the home have minimal glazing and are protected by the garage and trees from prevailing winds. The ceilings are minimally vaulted to maintain the efficiency of heating and cooling the home. The polyurethane SIPs have high R-values with R30 walls and R48 ceilings. The floor is insulated with R38 bats, plus 1.5 inches of light cement slab to enclose the in-floor heating system. Because the long axis of the home runs along the path of the sun and is enveloped in SIPs and well-positioned windows, it needs no air conditioning.
Earth Advantage measured the home's Energy Performance based on the design and building materials used. Earth Advantage estimated energy consumption to operate the Smiths home was one-third when compared to a just 'built to code home'. The home's carbon score was one fifth of the average US house. Earth Advantage gave this home a 'Platinum' rating, its highest rating. The home also earned the 2009 Green Building Award from Central Oregon Builders Association. To learn more about Earth Advantage please visit their website: http://www.earthadvantage.org/index.php.
The Smith's are hosting an Energy-Smart Living Workshop on Saturday, June 19th from 1:00pm-4:30pm at their Sisters, Oregon home. The workshop will include mini presentations given by experts in the areas of LEED architectural design, solar electricity, and solar thermal design and installation. To register, contact the Smiths by calling 541-977-8285, or email timberinfo@ykwc.net.
About the Davis Frame Company
Over two decades ago, Jeff Davis and Rick Bascom realized they shared a common dream: to build the finest timber frame homes. Together they formed the Davis Frame Company. Both dedicated artisans, they have consistently attracted like-minded individuals to work with them who share the same ideals of quality, collaboration and an unrelenting passion for the trade. Every home by Davis Frame is both an expression of these values and a reflection of the owner's desires.
Davis Frame designs and manufactures energy efficient and luxury timber frame and post and beam homes. The company also builds heavy timber trusses, commercial timber frames, prefabricated timber trusses, prefabricated timber bents, timber frame homes, barn homes, timber frame additions, stairs, and porches from a variety of wood species. Davis Frame also provide Structural Insulated Panels (SIPS), Eagle and Integrity windows, pre-finished T&G, cedar siding and trim, custom fir railing, and a variety of other building products.
###