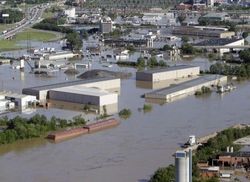 "There is some speculation that the flood may end up helping certain areas of town through relocation, although it's been devastating to the areas hardest hit, and the people whose lives have been turned upside down."
Brentwood, TN (PRWEB) June 16, 2010
With the Federal tax credits expiring at the end of April, there were many doom and gloom predictions for residential real estate. Even with a flood of historic proportions to contend with, the Nashville real estate market seems to be weathering the storms and prevailing.
The Greater Nashville Association of Realtors (GNAR) reported 2,270 home closings in May, a 27.3% increase in home sales from May 2009. Median prices decreased slightly, less than one percent. Nashville condo sales rose (from 228 in May 2009 to 250 in May 2010), while condo prices dropped about 3%. Inventory of homes and condos for sale in Nashville TN also dropped to about a ten month supply.
"The tax credits expired, but buyers are still taking advantage of the incentives by having a contract signed by the end of April and not close until the end of June," Jeff Fulmer, a Nashville Realtor, explained. "That means that buyers are still closing on homes in May and June on contracts they signed in April."
The most significant local event in years was the Nashville flood, which displaced thousands of residents. "While most will rebuild, there is a percentage that will relocate elsewhere in Nashville," Fulmer said. "There is some speculation that the flood may end up helping certain areas of town through relocation, although it's been devastating to the areas hardest hit, and the people whose lives have been turned upside down."
In neighboring Williamson County, the number of suburban single family residential closings in May 2010 increased 45% from May 2009, while the median price increased over 3 percent. Days on the market decreased by 12 days compared to the same period last year. Alan Jackson's record breaking 28 million dollar home sale gave the average price for homes in Franklin TN a bit of a boost.
Condo sales in Williamson County were up 30% in May 2010 from twelve months ago; however prices have dropped. "The housing credit encouraged many first time home buyers, and they were often looking at lower price points," Jeff Fulmer said. "The number of condo sales in Williamson County is encouraging; however, it is still less than half of what they were in 2007 and 2008."
"The Franklin TN condos that have been selling the most so far in 2010 have been the lower priced developments, such as Laurelwood," Fulmer said. "A wide variety of Nashville condos are selling well. For example, the Icon and Rose Monte Nouveau both sold several units in May."
###