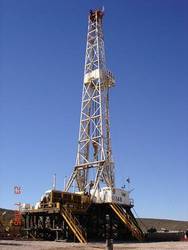 Freedom Air Charters let's us determine where we need to go and when we need to get there, VP - Energia Tejas
Houston, TX (PRWEB) June 17, 2010
Freedom Air Charter (freedomaircharter.com) dba Freedom Air Taxi of Houston, Texas, has found a new client base in its own backyard which also happens to be the energy capital of the world. The latest group to join the loyal rank of customers are those from the energy, oil & gas industry who have found great luxury and convenience utilizing the company's central location at Ellington Field, first-class aircraft, convenient destinations and straight $550 per hour starting rates for service.
"Energy industry executives, geologists, engineers and landmen have been calling us more and more because they have found it is more convenient and definitely more cost-effective to get to the site than driving or using commercial flights," says Chris Castillo, CEO and Chief Pilot. "We can get them off the ground in 10 minutes and back to the office or home in a few hours."
Compared to traditional jet charters, Freedom Air offers a more cost-efficient alternative and the ability to arrive at airports that do not accept commercial airplanes or with limited access.
"Freedom Air Charters let's us determine where we need to go and when we need to get there," says Charles Humphrey, Vice President - Energia Tejas. "We have found that using their service not only makes travel easier, but in today's economy definitely more cost-effective as opposed to driving or taking a commercial flight."
With service to numerous locations including smaller "no hassle" airports, Freedom Air Charters offers its clients better value and speed when it comes to business travel. Our customers appreciate the personal approach we take and the services we provide. At Freedom Air Charters our clients, drive up, get on and depart making us the easiest and most cost effective solution to business travel. Freedom Air Charters invites you to make us your personal airline.
For more information or a free quote visit Freedom Air Charters at http://www.freedomaircharter.com or call 1-866-950-9001.
By PAUL GRABOWSKI
###