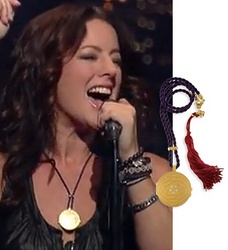 Sarah McLachlan on David Letterman discussing the return of Lilith Fair
New York, NY (PRWEB) June 15, 2010
Sarah McLachlan just recently finished her New York City PR tour promoting her new album, "Laws of Illusion" and this summer's Lilith Fair. She wore a Kim Kaufman Design Kiss of Venus locket during her entire tour and I've included clips below for your review.
Kim Kaufman is a fine artist and sculptor by training, having earned a BA in literature from Tufts University, a BFA from the School of the Museum of Fine Arts, Boston and a MFA in sculpture from the Maryland Institute, College of Art.
Kim approaches jewelry with the eye of an artist, pulling from ancient symbols, sacred geometry and universal forms and then carving into the pieces a rich meaning that is carried by the wearer. Throughout history, jewelry has conveyed deep symbolic meaning, from that of bonding to one of protection. Thus, one's personal adornment told a story about the wearer, who they were, where they came from, who they loved. Today, much of this meaning is lost and along with it much of the craftsmanship.
Kim strives to once again connect form and function with handmade craftsmanship and move away from jewelry that is only about "bling". Kim is reviving the notion of a timeless family heirloom, creating a piece of jewelry that holds cherished memories and is passed down from generation to generation. Yet, the collection is doggedly chic and stylish with a hint of old world charm. In combining the old with the new Kim's pieces are a fresh and contemporary approach to awakening centuries of history and reclaiming jewelry as an object of profound personal significance.
The Kim Kaufman Design Collection is available at Bergdorf Goodman in the Fine Jewelry Department.
###