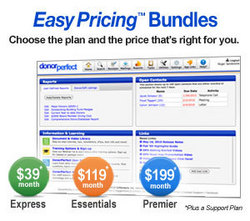 Horsham, PA (Vocus) June 15, 2010
SofterWare, Inc., the developer of DonorPerfect Fundraising Software, have announced the availability of EasyPricing™ bundles for their web-based fundraising software – DonorPerfect Online. SofterWare has bundled the most popular features into three affordable packages to meet any nonprofit's budget and needs, as low as $39 a month. All the packages, Express, Essentials and Premier, include the DonorPerfect Constituent Database for complete fundraising & contact management, credit card & donation processing & acknowledgment, powerful reporting & analysis, as well as backups, enhancements & all updates.
The packages are designed so that each nonprofit can choose the package that fits their needs and budget, and can easily upgrade as their donor database and sophistication grow.
Jon Biedermann, Vice President for Fundraising Products at SofterWare, commented that "DonorPerfect has a long tradition of providing powerful fundraising tools at affordable pricing, and given the economic challenges nonprofits face today, we wanted to go further. So we decided to give our clients even greater value by eliminating extra-cost add-ons with software suites to fit every size nonprofit. DonorPerfect Express is easy to use and is perfect for small or new organizations, Essentials is geared towards medium size organizations, and Premier has all our advanced functionality for even the most sophisticated development office. Nonprofit organizations now get more features and functionality than ever before at extremely affordable pricing."
Doug Schoenberg, CEO of SofterWare, noted, "Nonprofits today need sophisticated, professionally designed tools for fundraising more than ever. Too often their limited budgets force them to make due with spreadsheets, home-grown databases or shareware software that they quickly outgrow. That's why we're so excited to provide fundraising software packages that every nonprofit can afford today, but not outgrow tomorrow."
For more information about DonorPerfect Online's new pricing, or to request a no-obligation price quote, please visit http://www.donorperfect.com/pricing or call (800) 220-8111.
About SofterWare, Inc.
SofterWare, Inc., based in Horsham, Pennsylvania is a leading provider of software to nonprofit organizations, with over 10,000 clients throughout the world. In addition to the company's DonorPerfect fundraising software, SofterWare also offers software for managing childcare centers, public and private schools, and camps and conference centers. For more information on SofterWare and its products, please visit http://www.softerware.com. For more information on DonorPerfect Fundraising Software, please visit http://www.donorperfect.com.
###