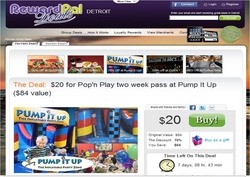 The difference with our company is that we continue to support business and community by offering on going services. We avoid 'fly by deals' as our competitors are promoting. Join the movement.
Novi, MI (PRWEB) June 17, 2010
RewardPal Deals is a new service that promotes group buying through the power of social networks. RewardPal Deals, (http://www.RewardPalDeals.com) provides exclusive deals with local merchants that are available for limited time and at a limited quantity. Customers can then buy into each deal, taking advantage of the savings.
RewardPal Deals CEO and founder Tom Alkatib is motivated to do his part to help businesses increase their customer loyalty and stem the tide of empty store fronts hit by Michigan's recession.
RewardPal Deals works by signing up businesses to offer group deals to their customers at least 50% off the retail price of the product or service. This benefit is two-fold, as it brings in scores of new customers to a business, while offering a substantial savings on their products and services. These opportunities have endless savings potential, from restaurants to retail to events, and are available for a limited time only. Consumers must sign up and purchase before the deal expires, usually within one to five days. Consumers can receive these deals from RewardPal Deals.
"The difference with our company is that we continue to support your business and community by offering on going services. We avoid 'fly by deals' as our competitors are promoting." said Alkatib. "We continue to promote merchants even after their exclusive deal has expired by offering them a free online subscription. This allows companies to continue to promote their business with unlimited local offers and coupons by using RewardPal's innovative technology for online business advertising network." By enabling companies to promote their business, consumers are then able to continue receiving great savings from local merchants.
The merchants are provided with risk-free promotion opportunities with RewardPal Deals. Group deals are promoted online at no cost to the merchant if the minimum group purchase goal is not reached. Merchants receive positive exposure with the local community and can measure their group deal performance with RewardPal Deals' powerful online business account management tools. Merchants can explore the benefits of this powerful offer by contacting RewardPal Inc. at 1-800-377-6099 or by email at info(at)rewardpal(dot)net
About RewardPal Inc.
RewardPal, Inc. is a Michigan based company with a passion to help bring local business and consumers together through exclusive incentives and rewards. RewardPal Inc. (http://www.RewardPal.net) is a premier provider of customer loyalty technology and marketing services through business to business and consumer collaboration. RewardPal Deals is a service for group buying online services via a website that connects shoppers with the best deals and offers from leading local merchants. Through the power of group buying, consumers have access to limited time sales and specials for spas, restaurants, health clubs, bars and other local activities in their city. RewardPal Deals is currently publishing daily deals in Metro Detroit, Ann Arbor and various Metro areas in Texas with expansion plans to 30 cities. RewardPal Inc. is headquartered in Novi, Michigan.
For additional news follow RewardPal on Twitter @rewardpal and Facebook http://www.facebook.com/pages/RewardPal/154033007576 .
# # #