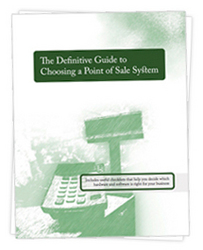 There are many choices out there for point of sale hardware and software, and it can be difficult for a small business owner to figure out which ones are right for their store
Chicago, IL (PRWEB) June 15, 2010
Cashier Live, the leader in web-based point of sale, announced today the release of The Definitive Guide to Choosing a Point of Sale System. The guide is a comprehensive overview of the key things you'll need to know in order to select the right point of sale system for your store. Included in the guide are checklists that help small business owners figure out which hardware is needed and what software features are essential.
"There are many choices out there for point of sale hardware and software, and it can be difficult for a small business owner to figure out which ones are right for their store," said Thomas Greenhaw, Founder and CEO of Cashier Live. "Selecting a point of sale system is one of the most important decisions a retailer can make, so we've created this guide to help guide them through the process. It covers the basics all the way to more advanced topics, and even includes some checklists that make it easy to determine what they'll need. Using this guide will definitely help retailers select the point of sale that's right for them."
With over 30 pages of content, this guide is packed full of content that is essential information for anyone tasked with choosing which point of sale software should be utilized at their store. If you're new to retail, have an existing store that's using just a cash register, or maybe even looking to switch software, then this guide is for you!
About Cashier Live
Cashier Live makes managing retail stores easy by providing retailers with easy to use retail management software. From conducting transactions to managing your inventory, Cashier Live gives you the tools to decrease costs and increase sales. And by taking advantage of web technology, retailers can use Cashier Live for a fraction of the cost for traditional software. Want to learn more about Cashier Live? Visit our website at http://www.cashierlive.com or follow us on twitter.
# # #