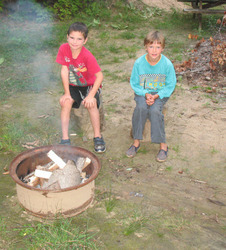 Family camping is a great way to reconnect with nature and with other family members as well.
(PRWEB) June 17, 2010
Now that the school year nears the end it is the perfect time to plan the summer vacation. Some kids will be lucky to go away camping with their family, others will go to camp but many more will stay in the city. Hopefully they will get a chance to enjoy some weekend trips and outdoor adventures. Hopefully all kids will have a good story to tell.
The new contest encourages children to write their own story about their "most awesome summer adventure". This may be a story from a family camping trip but also from summer camp or any other outdoor activity such as hiking through a city park or going to the beach. All stories will be published on the MomandDadCamping.com website and the winners will be featured in their Newsletter. There will be two age categories: up to 12 years of age and 13 to 16 years of age, with one winner in each group. For full details about contest requirements go to: http://www.momanddadcamping.com/forum/general-discussions/just-kids/most-awesome-summer-story-contest-kids.html
Beata Antoszek from MomandDadcamping.com says:" It is so important to take the time in the summer to reconnect children with nature. Nowadays kids have such hectic schedules, including school, homework, sports, art and music classes, that they get stressed out, just like us adults. They need time to unwind, breathe fresh air and feel some sunshine on their skin. The old fashioned, feel good activities such as going to the beach and hanging around without video games and other electronics, are simply good for their health and mental development.
Too often well meaning parents over-schedule their children without letting them play outside. Sometimes this is causing problems called "a nature deficit disorder". Kids' attention span gets shorter and their health and behaviour suffer. This is why we are such strong advocates of going back to nature through family camping. Camping is a great way to reconnect with nature and with other family members as well."
For all parents Beata Antoszek from MomandDadCamping.com has prepared a free report called, "5 Biggest Mistakes That Camping Parents Make" together with the "Ultimate Family Camping Checklist".
You can get your FREE reports along with other valuable information by going to http://www.momanddadcamping.com
# # #