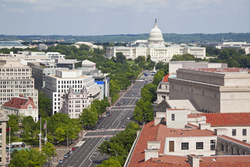 "Our clients are drawn to our commitment to provide quality legal services with a very competitive billing structure"
Washington, DC (PRWEB) June 16, 2010
The law firm of Perry, Krumsiek & Jack, LLP(PKJ) announced today the opening of its new office in Washington, D.C. to meet the growing demand for exceptional yet affordable legal services in the nation's capital. "There are hundreds of law firms in Washington employing tens of thousands of attorneys, but there are very few firms like ours that can provide their clients partner-level attorneys with 15-20+ years of large firm or in-house experience, but at highly competitive rates or alternative billing arrangements such as fixed or hybrid fee agreements" said Philip Jack, one of the firm's founding partners.
Twelve attorneys have joined PKJ in opening its full-service D.C. office, bringing with them a wealth of experience in a broad range of practice areas, including commercial litigation, corporate and securities, intellectual property, tax, antitrust, labor & employment, government contracts, and energy and environmental law. PKJ now has a total of 27 attorneys in four growing offices: Boston, Washington, Miami and Chicago.
The DC partners are Cheri Carper Bennett, Michael J. Cicero, Sandhya Mehta, Nygina Mills, Kenneth A. Sprang, Dusko J. Stojkov and Thomas M. Goldstein.
Ms. Bennett heads the firm's corporate securities practice. She is a veteran of the SEC's Corporation Finance Division and has advised clients on a wide-range of corporate and securities-related transactions for three leading law firms, Patton Boggs, K&L Gates, and Sutherland Asbill & Brennan. Ms. Bennett has also served as Associate General Counsel at E-Trade.
Mr. Cicero is a litigator and antitrust specialist with 20 years of experience representing and advising clients in a wide range of industries. He clerked for a judge on the U.S. Sixth Circuit Court of Appeals and spent 12 years at Covington & Burling before launching his own practice representing national and international clients.
Ms. Mehta heads the firm's India practice and advises companies on commercial, technology and intellectual property transactions. She brings to the firm more than 20 years of legal experience with leading law firms, such as Paul Weiss and Baker Donelson, and also has in-house experience as corporate and technology counsel for MetLife.
Ms. Mills heads the firm's government contracts practice. In addition to working on a range of corporate transactional matters with several leading law firm, including Crowell & Moring and Paul Hastings, she has also served as a trial attorney with the U.S. Departments of Defense and Transportation.
Mr. Sprang has represented clients in a broad range of corporate, commercial and labor and employment matters during his more than thirty year legal career. His prior experience includes serving as General Counsel for Psychiatric Institute of Washington, as in-house counsel for two Fortune 500 companies, and as Senior Counsel to the Chairman of the National Labor Relations Commission. He began his career in the labor & employment practice of Morgan Lewis & Bockius.
Mr. Stojkov leads the firm's tax practice and brings a depth of experience in a wide variety of tax, corporate and structured finance matters. He previously worked at Patton Boggs and Ernst & Young and, most recently, held a front office management position with a major regional European bank.
Mr. Goldstein, a former Skadden Arps attorney and legal recruiter, was brought on by the firm last year to open its DC office and recruit its team of attorneys. He serves as Managing Partner of the firm's Washington, DC office.
"The opening of our new office in Washington, DC is a reflection of Perry, Krumsiek & Jack's continued growth," said Mr. Goldstein. "Our clients are drawn to our commitment to provide quality legal services with a very competitive billing structure. The firm's philosophy is to keep overhead low and pass along these savings directly to our clients. As a result, we can offer 'big firm partner quality' at rates comparable to what large firms charge for junior associates. In this economic climate especially, our clients appreciate this."
Lauren M. Burke, Nathan M. Cherry, Gerald L. Gilliard, and Joëlle H. Hervic have joined the firm as Counsel. Ms. Burke's practice focuses on real estate and civil and criminal litigation. Mr. Cherry works on corporate and energy-related matters and is helping the firm develop its clean energy & technology practice. Mr. Gilliard co-chairs the firm's government contracts practice along with Ms. Mills. Ms. Hervic is the firm's senior environmental attorney. Licensed in the U.S. and in Australia, she assists companies based in Australia that are seeking to enter the U.S. market. Jonathon W. Groza has joined as an associate and works on litigation matters. Mr. Groza works in the firm's litigation practice.
"This is an exciting time to practice law in Washington, D.C.," said Mr. Goldstein, "and we are thrilled that such accomplished and experienced attorneys have joined Perry, Krumsiek & Jack in opening the new D.C. office."
The new office is centrally located at:
1150 Connecticut Avenue, NW
Suite 500
Washington, DC 20036
Telephone: (202) 570-7505
About Perry, Krumsiek & Jack, LLP
Perry, Krumsiek & Jack, LLP is a full-service law firm with attorneys in Boston, Miami, Chicago and Washington, D.C. Our attorneys have extensive experience in a broad range of practice areas, including civil and commercial litigation, corporate law, employment law, intellectual property law, administrative and municipal law, commercial real estate and finance, government relations, and criminal defense. We have successfully represented clients before numerous state and federal trial and appellate courts, as well as various municipal, state and federal agencies and authorities. A philosophy of concerted problem solving, coupled with a strong emphasis on the use of technology, allows Perry, Krumsiek & Jack to deliver exceptional legal services at competitive rates. The firm is AV rated, the highest ranking of Martindale-Hubbell's peer review rating system.
# # #