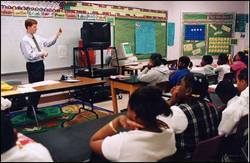 Students see impressive gains in reading scores.
Lakewood, NJ (PRWEB) June 15, 2010
Save the date! The East Orange School District and Achieve3000 will host an end-of-year celebration to recognize the hard work of students who have made significant improvements to their reading scores. This event will give community members an opportunity to see first-hand how the school's partnership with Achieve3000 is resulting in double-digit reading gains.
Who: Dr. Clarence C. Hoover, III, Superintendent
What: End-of-Year Celebration to highlight significant reading gains by students
When: Tuesday, June 15th, 2010 at 6:00 PM
Where: The Theater at Cicely L Tyson School of Performing Arts,
35 Winans Street, East Orange, NJ 07017
Scheduled to join Dr. Clarence C. Hoover, III, Superintendent are Troy Webster, City Ombudsman/Zoning Officer (representing Mayor Bowser), Councilwoman Alicia Holman and, and representatives from Achieve3000. Participants can learn more about the Achieve3000 reading program the students used both at the school and at home to improve their reading abilities.
Achieve3000 is the leader in online differentiated instruction that uses a proprietary software engine to provide, via the Internet, tailored assignments to each student in the class based on his or her reading level. The company's literacy solutions are delivered in a non-fiction, current event format and are based on decades of scientific research. Additional information about Achieve3000 can be found online at: http://www.achieve3000.com.
###