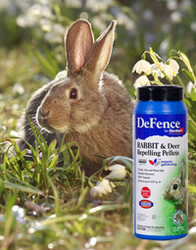 The formula keeps rabbits away as long as the pellet is intact.
Lititz, PA (Vocus) June 15, 2010
Here's how it works: Made with putrescent eggs and dried blood, which mimics the scent of a dead animal, DeFence® Rabbit Repelling Pellets emit an odor that triggers a "flight" response in rabbits, deer and squirrels. The smell sends animals packing from otherwise tempting plants, shrubs and flowers.
"The pellet itself is an innovative new way to deter even the most voracious animals. Other granular repellents on the market are a mix of active and inert ingredients, but DeFence Repelling Pellet last longer because they are made up, almost entirely, of active ingredients." says Theresa Flavin, Marketing Associate for Havahart®. "The formula keeps rabbits away as long as the pellet is intact."
The pellets are the newest addition to the DeFence Rabbit Repellent by Havahart product line. As with all Havahart products, these pellets have been rigorously field and laboratory tested. Havahart helps keep gardens green with DeFence which proudly displays the OMRI® logo from the Organic Materials Review Institute and is approved by the USDA for organic gardening. The pellets are biodegradable and can be used with confidence around people, plants and pets. One 1.25-lb bottle provides up to 625 acres of coverage.
DeFence Rabbit Repelling Pellets are on sale now, and may be ordered online at Havahart.com or at your local lawn and garden retailer. For more information about DeFence Rabbit Repelling Pellets, visit Havahart.com/DeFence-Rabbit-Repellent.
About Havahart®:
Havahart®, a leading manufacturer of caring wildlife control products for more than 60 years, offers live animal traps and animal repellents. Its live animal traps are a safe and humane animal control alternative. Many of the company's animal repellents are OMRI listed® organic or USDA® approved for organic gardening, reflecting Havahart's commitment to a cleaner, healthier environment.
Havahart® is a registered trademark of Woodstream Corp.
About Woodstream Corp:
Woodstream Corporation is a long-standing, privately held company and a leading manufacturer and marketer of quality-branded wild bird feeders, rodent control products, caring control products for pets and wildlife, decorative garden accents & natural solutions for lawn and gardens.
###