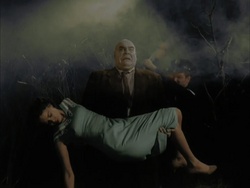 Our studio has a definite indie feel to it – a little alternative and off-center -- and we are absolutely drawn to cool and unusual projects
San Diego, CA (PRWEB) June 15, 2010
Those pesky aliens that want to resurrect dead humans as zombies and vampires to stop mankind from creating a sun bomb will soon be able to do it in full color and in 3D, as Edward D. Wood Jr's original 1959 campy Sci-Fi film, "Plan 9 from Outer Space" will be converted into full 3D, it was announced today by San Diego-based 3D Production & Conversion studio PassmoreLab.
The film, also known as the "worst movie ever made" due to its numerous continuity and production gaffes, has become an iconic sci-fi cult classic due largely to its reputation for being so bad. It was christened "worst movie" back in 1980 by Harry and Michael Medved in their book "The Golden Turkey Awards", when they claimed to have found the "holy Grail" of bad movies. Since then, the movie has become very popular.
"Being dubbed "worst ever" was the probably the best thing that ever happened to this film," said Greg Passmore, president of PassmoreLab. "That label started a cult following, where it gained a massive fan base, with me included. I am delighted to convert the original film into 3D using our proprietary technology."
As campy as it is, "Plan 9" is now widely considered to be legendary B-movie director Ed Wood's masterpiece, albeit a bad one. Both he and the film gained more notoriety after they became the subject of Tim Burton's 1994 film "Ed Wood", with Johnny Depp starring in an angora sweater in the title role.
"Our studio has a definite indie feel to it – a little alternative and off-center -- and we are absolutely drawn to cool and unusual projects," continued Passmore. "That was a big reason we converted Romero's 'Night of the Living Dead' last year. And that's exactly why we are converting 'Plan 9', because we love cult films, and we take great care with them."
"Plan 9 from Outer Space", was written, produced, directed and edited by Wood, and was originally shot in black and white over 50 years ago. It was restored and colorized by Legend Films in 2006, and will now be converted, frame by frame into full 3D, using Passmorelab's proprietary conversion technology. It is Legend Film's colorized version that is being used for the conversion, which will take over 6 weeks to complete at a cost far greater than the film's original $60,000 production budget.
"Converting film demands great attention to detail, especially with a film this old. Rest assured, audiences will be able to enjoy the same film they have always known -- complete with the 73 or so production flubs -- except now they will see those wires, strings and wobbly flying saucers in 3D," smiles Passmore.
3D conversion is emerging as an incredible opportunity for content owners worldwide, and by employing PassmoreLab's proprietary technology, it can become a very cost-effective way of repurposing previously viewed material.
"3D continues to penetrate new distribution channels as an industry, and conversion is a big part of our business. All the great films we love in 2D can now be converted into 3D seamlessly to attract new audiences and find new revenue streams," said Steve Glum, PassmoreLab's head of Branding & Distribution. "Plan 9 from Outer Space, Now in 3D!" is the original film, the granddaddy of all bad movies, and we think audiences everywhere will have a great time seeing it in 3D."
"Plan 9 from Outer Space, Now in 3D!" will be seen in select US theatres in limited release and on VOD on various network locations later this summer.
About PassmoreLab
Passmorelab, the San Diego-based multi-media production studio that specializes in 3D production and 2D to 3D content conversion, has the world's largest library of 3D content available for licensing. The studio custom-designs and builds its own RED camera 3D rigs for both conventional and rugged film productions, shooting everything from feature films, television and science documentaries, to underwater diving, extreme sports and cave exploration. State-of-the-art facilities include a full 3D production studio, video/film post-production, optical development lab, and a software development environment. Production includes 2D, 3D, high dynamic range time lapse, stereoscopic microscopy and cutting-edge simulation technologies for real time SFX. Passmorelab's proprietary technology for 2D to 3D content conversion is known in the industry for quick turnaround times and competitive conversion costs. PassmoreLab has additional offices in Russia and the Philippines. For more information, visit http://www.passmorelab.com.
###