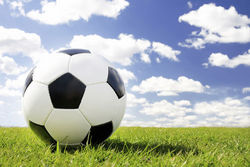 East Hartford, CT (Vocus) June 15, 2010
The most popular athletic event on earth, soccer's quadrennial World Cup tournament, is underway and FIFA, the sport's world governing board, has announced that more than 130,000 tickets have been sold in the U.S., the most of any country outside South Africa. FIFA estimated that 40,000 fans are heading to South Africa to support the USA team as well as other national teams with large U.S. fan bases including Mexico, Argentina, Brazil, Portugal, Spain, South Korea, France and England.
Fans who purchased World Cup travel packages and overlooked travel insurance, or who took advantage of last-minute travel availability to the tournament, can still obtain strong, low-cost travel insurance to cover them from date of departure until their return home. Travel Insured International, a leading 3rd-party travel insurance provider, offers a cost-saving trip insurance solution in its $0 trip cost plans, previously known as "post-departure" plans. With coverage starting at 12:01 AM on the departure date, a $0 trip cost plan includes most of the same benefits and coverage limits specified in your selected type of Worldwide Trip Protector plan including trip delay, baggage delay or loss, and emergency accident and sickness medical expense. It excludes Trip Cancellation, which is eliminated, and limits Trip Interruption coverage to return air-only benefits.
Cost Savings with $0 Trip Cost Plans
The affordable $0 Trip Cost plans are available on four types of Worldwide Trip Protector policies, including Worldwide Trip Protector Gold, Worldwide Trip Protector. Trip Protector Lite, and Trip Protector Lite Expanded. The premiums for $0 Trip Cost plans are approximately one-third of the price of plans that include full Trip Cancellation and Trip Interruption coverage for trips with prepaid travel costs at $1,501 per person or more.
Travel situations in which the $0 Trip Cost travel insurance plan makes economic sense include:

Last-minute travel: when your need for Trip Cancellation is minimal because of the short timeframe between booking date and scheduled departure date.
When your primary international travel insurance need is for emergency medical expense and emergency medical evacuation coverage. The U.S. State Dept. (travel.state.gov) recommends that Americans headed overseas purchase insurance because Medicare and most U.S. health plans do not include coverage outside the U.S.
When your supplier guarantees a refund or supplies a cancellation waiver, making Trip Cancellation less of a priority than obtaining emergency medical coverage.
When you want to save money on travel insurance and prefer to assume the risk of losing your prepaid trip investment if you are forced to cancel.
Strong Coverage Features
Trip Delay protection while going to and through the airport to your scheduled
departure is included.

Missed Connection, including Change of Itinerary / Missed Port of Call coverage for cruises and tours, is included in all plans except Trip Protector Lite.
Emergency Medical Expense, Travel Accident Protection and Baggage Protection are included primary coverage in Worldwide Trip Protector Gold.
Upgrades are available in Worldwide Trip Protector to primary Emergency Medical Expense and Primary Baggage Protection.
Emergency Medical Evacuation and Necessary Repatriation are included.
Worldwide Travel Assistance Services are included, available 24/7 on your trip!
Terrorism coverage is included.
Several great Travel Insured options are available with each plan: Upgrade your medical coverage, select a Sports Coverage option, and add or upgrade common carrier accident insurance to a choice of levels, depending upon your specified plan.
Soccer fans packing their national team jersies and noisemakers should remember their third essential item for the trip to South Africa: a strong yet affordable, last-minute $0 trip cost travel insurance plan from Travel Insured International.
About Travel Insured International
Travel Insured International, based in E. Hartford, CT, was founded in 1993 by the foresight of insurance industry executive Peter Gehris when he acquired the travel protection division of the Travelers Insurance Company. Coverage is underwritten by Arch Insurance Company (a Missouri corporation, NAIC #11150) with executive offices located in New York, NY. Not all insurance products or coverage is available in all jurisdictions. Coverage is subject to actual policy language.
Travel Insured International
52-S Oakland Ave.
E. Hartford, CT 06128-0568
Contact: John Stone
Media Relations Manager
1-800-243-3174 x 117
http://www.travelinsured.com
###