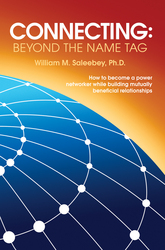 Power networking: Connect with impact! Make a lasting impression! Build mutually beneficial relationships! Learn how at this upcoming book signing networking mixer and presentation at Vroman's bookstore in Pasadena on Tuesday, July 6, at 7 p.m.
Pasadena, CA (PRWEB) June 16, 2010
With current statistics on unemployment and business downsizing, honing the skill of networking is imperative to survival in the current market. It has become a necessity in an individual's search for work, as well as in a businesses' need to attract clients and receive referrals to keep their businesses thriving. In today's tough economy, networking is the only proven way to make and win the contacts you want and need. Learn how to connect and contact beyond the name tag.
As people turn to their networks more than ever, Connecting: Beyond the Name Tag provides readers with a much-needed resource to help them build and maintain a large sphere of influence through face-to-face networking and social media. Dr. Saleebey's new book delivers a wealth of knowledge on the subject of business networking, giving tips and examples on how to connect better with people by understanding the psychology of interpersonal relationships, while providing many tools for the reader. Become a powerful networker and build mutually beneficial relationships – professionally and personally!
THE DETAILS...
WHAT: Networking Event and Book Signing
WHEN: Tuesday, July 6, 2010 from 7 – 9 p.m.
WHERE: Vroman's Bookstore, 695 E. Colorado Blvd, Pasadena 91101
WHO: All are welcome!!!
EVENT LINK: http://www.socializr.com/event/387018526
Click here to buy Connecting: Beyond the Name Tag
Complimentary wine and light appetizers will be served. It is open to all who would like to attend, and it will be a great opportunity to network and meet a wide variety of people.
Connecting: Beyond the Name Tag is a fresh and unique book that exposes the psychological nature behind human interaction. Tapping extensive personal experience and numerous examples, Dr. Saleebey reveals the keys to becoming a successful networker by sharing his holistic approach to making connections. "Dr. Bill Saleebey has captured the real essence of networking that the most effective approach is to adopt it as a lifestyle…. This book is a must read for both the novice and experienced networker." Davis R. Blaine, Chairman, The Mentor Group; Managing Director, ProVisors. Whether you are a seasoned veteran or just beginning, this book will help you move beyond the name tag when making connections both in person and online so that you build and maintain long-term mutually beneficial relationships.
Major Topics in the Book Include:

First Impressions
Nonverbal Communication
Empathic Listening
Group Dynamics
Social Media
Centers Of Influence
Personality Type
Referral Etiquette
Follow-Up Techniques
ABOUT THE AUTHOR: Dr. Bill Saleebey is the foremost expert on the psychological dimensions of personal and business networking. He has over 25 years experience in networking, which he has used to develop an outstanding referral network that has generated millions in revenue. This vast experience, coupled with a strong psychological background, makes the information in Connecting both relevant and useful. He has been speaking throughout the United States on the topic of business networking.
MEDIA CONTACT INFO: For media interviews, speaking engagement bookings and/or information regarding the book, Connecting: Beyond the Name Tag, contact Dr. Bill Saleebey at DrBillSaleebey(at)gmail(dot)com or visit http://www.ConnectingBook.com/
###