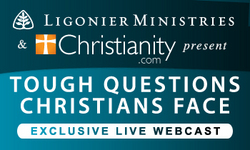 Christianity.com and Salem Web Network are involved in Great Commission work,...Ligonier is grateful to partner with this excellent team as we seek to equip the growing Christian to take captive every thought for the glory of God.
Richmond, VA (PRWEB) June 15, 2010
The Salem Web Network's Christianity.com, a premier online destination for spiritual growth and theological discussion, is excited to announce it will be streaming the Ligonier Ministries 2010 National Conference in a free webcast, June 17th through 19th .
Live from the Orlando World Center Marriott Resort & Convention Center, the conference will feature some of the most recognized and respected pastors and leaders exploring the theme "Tough Questions Christians Face." To learn more about the conference and to bookmark the live webcast, visit: http://www.christianity.com/ligonier/
"Dr. R.C. Sproul's Ligonier Ministries produces some of the most respected theological materials and discourse available to Christians today," says Stephen McGarvey, editorial director of the Salem Web Network and executive editor of Christianity.com. "We are humbled by this opportunity to assist them in expanding the reach of their important work. And we hope hosting this conference online will provide practical spiritual enrichment to thousands unable to join us for the event in Orlando."
"Christianity.com and Salem Web Network are involved in Great Commission work," says Chris Larson, Executive Vice President of Ligonier Ministries. "They are leading the charge to bring thoughtful, Christian instruction to the planet through a discerning use of internet-enabled media. Ligonier is grateful to partner with this excellent team as we seek to equip the growing Christian to take captive every thought for the glory of God."
Featured pastors and church leaders include R.C. Sproul, John MacArthur, Alistair Begg, Albert Mohler, Michael Horton, Derek Thomas, Steven Lawson, R.C. Sproul Jr., and Burk Parsons.
"Ligonier has assembled a line-up of speakers representing some of the most trusted and studious theologians today." McGarvey added. "We believe the message of the 'Tough Questions Christians Face' conference and webcast will be a great benefit to Christians in all stages of their faith. From those new to Christianity to longtime pastors, this message will be enriching for all."
Following the conference, all videos will be available free on-demand at Christianity.com.
About Salem Communications, Salem Web Network, and Christianity.com
Salem Communications Corporation is the largest commercial U.S. radio broadcasting company that provides programming targeted at audiences interested in Christian and family-themed radio content, as measured by the number of stations and audience coverage. Upon completion of all announced transactions, the company will own a national portfolio of 95 radio stations in 37 markets, including 58 stations in 22 of the top 25 markets. We also program the Family Talk ™ Christian-themed talk format on XM Radio, channel 170.
Salem also owns Salem Radio Network, a national radio network that syndicates talk, news and music programming to approximately 2,000 affiliated radio stations and Salem Media Representatives, a national media advertising sales firm with offices across the country.
In addition to its radio broadcast business, Salem owns a non-broadcast media division. Salem Web Network is a provider of online Christian and conservative-themed content and streaming and includes websites such as Christian faith focused Christianity.com, Christian living focused Crosswalk.com®, Online Bible Study at BibleStudyTools.com, and Christian radio ministries online at OnePlace.com. Additionally Salem owns conservative news leader Townhall.com® and conservative political blog HotAir.com, providing conservative commentary, news and blogging. Salem Publishing™ circulates Christian and conservative magazines such as Homecoming® The Magazine, YouthWorker Journal™, The Singing News, FaithTalk Magazine, Preaching and Townhall Magazine™. Xulon Press™ is a provider of self publishing services targeting the Christian audience.
About Ligonier
Ligonier Ministries is an international Christian education organization founded by theologian Dr. R.C. Sproul in 1971 to equip Christians to articulate what they believe and why they believe it. To this end, Ligonier produces the Renewing Your Mind radio broadcasts, The Reformation Study Bible (ESV), Tabletalk devotional magazine, new titles by Dr. Sproul and other contemporary authors and theologians through the Reformation Trust Publishing imprint, numerous teaching series, sacred music, national and regional conferences, and an extensive catalog with more than 3,000 unique resources.
###