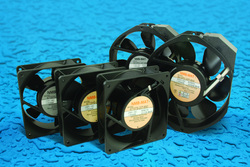 NMB's weather resistant AC fans in sizes of 119mm and 172mm are perfect for applications where dust and water are present.
Chatsworth, CA (PRWEB) June 15, 2010
NMB Technologies Corporation, a Minebea Group Company, announced today that Digi-Key, one of the fastest growing electronic distributors in the world, and an NMB distribution partner, is currently stocking NMB's weather resistant AC fans, in sizes 119mm X 38mm and 172mm X 150mm X 38mm.
Designed and manufactured for harsh environment applications, the NMB weather resistant AC fan series is perfect for applications such as industrial machines, inverters and chargers; as well as for outdoor applications where dust and water are present, including solar power systems, security systems, marine products, electronic enclosures/control cabinets, and telecommunications equipment.
With airflow from 116 to 222 CFM, these NMB fans are low noise, high flow, and high pressure, and are offered with custom metal blades and environmentally friendly potting technology. Plastic blades are also offered potted and high voltage (115VAC and 230VAC). A fully encapsulated motor design, using epoxy resin material and labyrinth structure, produces a fan series that is impervious to dirt, oil and moisture. Custom features include dust and water resistance (IP54), metal blades, dual voltage and 3 Faston terminals # 110. Plastic impellers, aluminum casing and impedance/thermal protection, as well as dual, maintenance free, ball bearings are all part of the standard features.
Contact Digi-Key today for more information on performance data and same day shipping of NMB product. Digi-Key also holds a large inventory of NMB's AC and DC cooling fans and blowers in standard sizes and for all types of applications and performance requirements.
About NMB Technologies Corporation - NMB Technologies Corporation, a Minebea Group Company, is the world's largest manufacturer of miniature precision ball bearings and a volume leader in the design and manufacturing of precision electro-mechanical components, including cooling fans and blowers, precision small motors and mechanical bearing assemblies. NMB products can be found in the personal computing, networking, telecommunications, home entertainment, home electronics, and automotive, medical and industrial markets.
For more information on NMB Technologies Corporation visit nmbt.com or e-mail at info(at)nmbtc(dot)com
About Digi-Key Corporation - As one of the world's fastest growing distributors of electronic components, Digi-Key Corporation has earned its reputation as an industry leader through its total commitment to service and performance. Digi-Key is a full-service provider of both prototype/design and production quantities of electronic components, offering more than 1.7 million products from over 440 quality name-brand manufacturers. A testament to Digi-Key's unparalleled commitment to service, North American design engineers have ranked Digi-Key #1 for Overall Performance for 18 consecutive years (EE Times Distribution Study/August 2009). Additional information and access to Digi-Key's broad product offering is available at http://www.digikey.com.
###