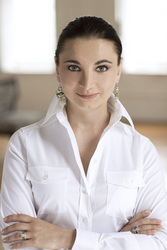 "As a designer, my focus is on sharing the creative process, and helping my clients transform their homes into spaces that are both are both their private retreats and public statements."
Ridgefield, CT (PRWEB) June 16, 2010
Olga Adler, who is the first ever interior designer to receive Fairfield County's "40 Under 40" award was honored for her business accomplishments, leadership qualities and personal business improvement efforts. The "40 Under 40" competition recognizes 40 successful business leaders under the age of 40 who are helping grow Fairfield County's economy. Candidates were judged by a panel of representatives from the Business Journal and the county's business chambers.
In addition to running highly successful design studio Olga Adler Interiors, she is also a popular speaker on various interior design topics and writer for a Home and Style blog. Olga Adler and her work has been featured in: The Modern Estate, Connecticut Cottages & Gardens, East Coast HOME+DESIGN, Serendipity, Inspired House, Doggie Aficionado, Connecticut Home & Garden, Fairfield County Home, Ridgefield Magazine and Fairfield County Business Journal as well as on ABC CT News Channel 8.
In 2005, she was selected to show her work in the Kinderwood Designer Showhouse. A kitchen of her design was featured on the 2008 Ridgefield Kitchen Tour. In 2009, her tabletop design was part of Ridgefield Guild of Artists Festive Home Show. And, this year, her work was featured in the 2010 Spring Awakening New Canaan Designer Showhouse, in which 20 top NY and CT designers created rooms based on Broadway show themes.
From European heritage, she blends an appreciation for classic style and a bold sensibility. Her innovative full-service work includes high-end kitchens and baths and is featured on olgaadlerinteriors.com. Despite the economy, 2009 was her biggest year, as her Fairfield County-based business grew dramatically with new-concept services and private label line of furniture.
As a small business owner she is involved in professional and local communities - Entrepreneurial Women's Network, Interior Design Society, Ridgefield Chamber of Commerce and Ridgefield Guild of Artists. She takes and leads courses and is an active member of mastermind programs. She strongly believes in women business owners supporting each other and helps women enter the profession through mentoring and training.
She is available to speak to groups and organizations about various interior design topics as well as about finding one's true calling and turning it into a successful business.
For more information and to contact Olga Adler.
###