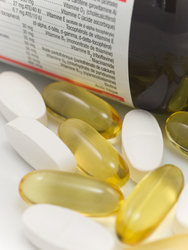 With the kind of quality products that I need, I dont need to shop elsewhere - a true one stop shop.
(PRWEB) June 18, 2010
Established in 1999, Vitamins for Life (vitaminsforlife.co.uk) supplies practitioner-grade nutritional supplements that come from the highest quality supplement manufacturers. They have a thriving business catering to people referred by alternative practitioners, and they offer large bulk orders on request. Vitamins for Life have expanded their inventory recently to include not only an increased selection of nutritional and vitamin supplements, but also items such as air purifiers and fragrances, water ionizers, water distillers, electro acupuncture devices, beauty products, juicers and tinnitus treatment products.
Vitamins for Life sells an extensive range of vitamins supplements and nutritional supplements by top manufacturers such as Nutrigold, Patrick Holford, Vega, Lamberts, Higher Nature, and BioCare. Biocare in particular is a line of products that Vitamins for Life is proud to offer, because of Biocare's sterling reputation in the industry.
BioCare is the UK's established market leader when it comes to high quality natural health care products. With over 250 products to choose from, BioCare offers one of the most comprehensive arrays of nutritional supplements anywhere, including essential fatty acids, antioxidants, probiotics, mineral supplements, vitamin supplements, and multi-nutrients.
BioCare is renowned for providing one of the best foundations of nutritional supplements for maintenance of overall well-being and health for UK customers. Their products are rigorously tested for both quality and content, and they adhere to all standards set by the EU vitamins directive. These are just some of the reasons Vitamins for Life chooses to stock them.
Scientific evidence supports the benefits of dietary supplements, and the track record for supplementation is becoming more well-established all the time. Supplements help ensure that people get adequate amounts of essential nutrients and help promote optimal performance and health.
A study by the Mayo Clinic in the US recently reported that the risk of developing a type of cancer called non-Hodgkin lymphoma was cut by 45% in people taking at least 108 micrograms of vitamin K every day, compared with people taking less than 39 micrograms per day. A recent Japanese study showed benefits of zinc in easing depression in females, and a study published in the American journal Archives of Ophthalmology showed promising results in preventing progression of an inherited eye disease called retinitis pigmentosa with a combination of lutein and vitamin A.
Vitamins for Life has over a decade of experience in providing the UK with top quality nutritional supplements and vitamins supplements as well as incorporating the latest nutritional research when expanding its inventory. Their comprehensive selection of supplements and other health care products is taking the retailer from strength to strength as they continue to expand operations based on leading nutritional research from all over the world.
# # #