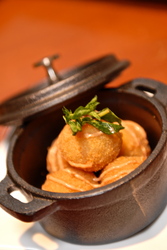 Bite offers a delicious variety of gourmet small plates to share with friends in our casual gourmet setting
Santa Monica, CA (PRWEB) June 16, 2010
Bite Bar & Bakery announces its Grand Opening with the launch of its dinner menu on June 25, 2010. Bite provides a playful spin on eclectic and comforting small plates and decadent desserts in a chic casual setting.
Chef Elizabeth Goel brings her interpretation of casual gourmet and international small plates to Santa Monica with the launch of the Bite Bar's dinner service. By day, the bakery/ cafe features made-from-scratch breakfast plates, sandwiches, salads and dessert including items like our eggy bread breakfast sandwich, homemade Reuben, jumbo lump crab sandwiches and decadent lemon bars from our bakery.
In the evening, the dining room morphs into a wine bar offering a delicious variety of small plates -- a mix of plays on classic comfort foods, traditional international small plates, and the whims of a pastry chef exploring the savory. Every dish is designed to be shared and focuses on high quality, market-driven ingredients.
An evening at Bite may include a trip to the South with Bacon-Maple Popcorn and Buttermilk Southern Fried Jidori Chicken with Grits, veer north with Napa-style Artichoke Beignets and Vegetable Flatbread, head overseas with a Pate tasting plate and Malpeque Oyseters with champage pearls, and end with decadent pastry like a Strawberry Almond Streusel Crostata, Warm Valrhona Molten Chocolate Cake, and Vanilla Bean Greek Yoghurt Panna Cotta.
The bar menu features wine and beer sourced from boutique vineyards and breweries.
Bite Bar, which opens for dinner June 25, is located at 3221 Pico Blvd across from Trader Joe's in Santa Monica, between Upper West and Valentino's. Dinner will be served Fridays and Saturdays to start. The restaurant also has plans for launching a happy hour and late night dessert later in the summer. Telephone (424) 744-8658. Currently open Tuesday-Sunday for breakfast and lunch (8:00 AM – 3:00PM) with dinner Friday and Saturday to start (5:30-10:30 PM). The restaurant is available for private events on days without scheduled dinner service.
Chef Elizabeth Goel attended the French Culinary Institute and founded Bite Catering Couture, a premier Los Angeles catering company specializing in passed miniature foods. She has previously been featured on Food Network Challenge.
Parking is located in the US Bank lot at 33rd and Pico Blvd.
For more information visit our website http://www.BiteBar.com or, press only, contact Mary Fenton at 310-401-3397 or by email.
###