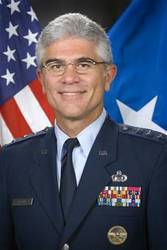 energy and encroachment/compatible use planning.
Fredericksburg VA (Vocus) June 15, 2010
Rebecca R. Rubin, President and Managing Partner of Marstel-Day, LLC, an environmental and conservation consulting firm based in Fredericksburg, Virginia, today announced the addition of retired Air Force Lieutenant General John F. Regni to her firm's Advisory Council. In making the announcement, Rubin said, "I welcome General Regni to the Council and look forward to the Company's management, environmental planners and analysts benefiting from the General's demonstrated success and experience incorporating sustainability and renewable energy practices into facility design and operational practices."
General Regni served 36 years in the Air Force, including as Superintendent of the Air Force Academy from 2005 through 2009, during which time he championed and published the Academy Energy Strategic Plan, which put the Academy on an achievable path to produce 100% of its electricity by 2015 and to be "carbon free" by 2025. The plan leverages the abundant natural resources at the expansive Academy and builds solar fields, hydroelectric turbines, a waste-to-energy plant, geothermal heat pumps, a dry fermentation biomass facility, woody-biomass and low-profile-wind devices to reach its goals. Under his leadership, all construction and facility improvements incorporated the latest "green" engineering initiatives, with Center for Character and Leadership facility designed to the LEED Platinum level.
General Regni said, "I look forward to joining with the other esteemed members of the Advisory Council, and assisting Rebecca Rubin and the Marstel-Day partners to help achieve their important work across environmental, conservation, "green" energy and encroachment/compatible use planning."
Rubin indicated that "General Regni will serve as a mentor to our staff and a strategic contributor to and reviewer of Marstel-Day's Air Force consulting program initiatives - a program that focuses on sustainability practices, encroachment control and compatible land-use planning, climate change adaptation strategies, habitat conservation and open space preservation partnering and other policy initiatives on behalf of the Headquarters Air Force, major commands and designated installations. He will provide important assistance in our effort to communicate the strategic importance of encroachment management, mission sustainment and climate adaptation, and how these environmental related issues can have critical national security impacts."
She concluded by noting that "General Regni is an outstanding fit to an already very impressive Advisory Council that is composed of many critical thinkers in the environmental experience who share the benefit of their years of senior government and academic experience with our firm's staff and leadership. We are honored with his willingness to serve in this capacity."
# # #