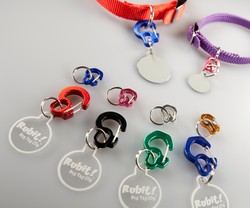 "I was so pleased, that at long last, someone has invented the perfect dog product! However did you do it?" Claudia, the bark ezine.
Overland Park, KS (PRWEB) June 15, 2010
The Rubit! Dog Tag Clips take Pet Industry Retailers by Storm. Rubit, LLC. of Overland Park , KS announces the addition of another 250 Independent Pet Store Retailers in the Month of May.
The secret to this amazing retail growth story is simple. An innovative, first to market pet product with a mass appeal to dog owners. This little gadget makes life easier and more convenient for thousands of modern dog owners. Retailers are motivated to carry this profitable incremental sale pet product particularly when it is being recommended by their best customers.
"Love the product! Thanks again for a great product...makes my life a little easier!" -Carrie Scribner
This perfect pet product is tough enough to take years of trips to the dog-park with a unique, simple design, language dog owners love. Owning a dog just got a little more convenient with the Rubit! Dog Tag Clip.
The Rubit Dog Tag Clip is an original carabiner quick release design that allows pet owners to easily move a dogs tag between collars with out a struggle with a metal split ring.The dog tag clip is available in two sizes: Jr. (for small collars), Regular (Medium to Large collars) and eight popular colors.
Pet Shop Retailers may visit rubitclip.com for more dealer information.
###