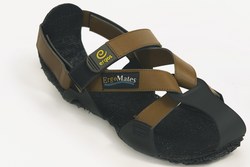 Work is Inevitable - Pain is Optional
Edmonton, AB (PRWEB) June 16, 2010
ErgoMate Lite -- Ergos is excited to release for sale the highly anticipated ErgoMate Lite *. The new ErgoMate Lite was developed to be the introductory model to the ErgoMate line of mobile anti-fatigue attachable footwear. The ErgoMate Lite is an exceptional fit for the occasional user such as, trade show participants, plant managers or health care workers. An aging work force will definitely enjoy the comfort offered by the Lite by reducing pain felt in your feet, ankles and lower body. The Lite is a great fit for lighter individuals (>150lbs) and or for those recovering from lower body, leg, foot or related MSD injuries. Log on to Ergos website to find a distributor near you!

Any person standing, waking or working for extended periods of time on hard surfaces can take advantage of the ErgoMate line of products. ErgoMate are the only mobile anti-fatigue attachable footwear with an anti-slip sole built-in. Extensively tested for anti-fatigue functionality, the ErgoMates unique looped back bottom sole design has a superior slip resistance ASTM rating of .45 on wet oily quarry tile. This feature adds to the safety benefit of the product helping reduce incidences of slips, trips and falls.
Italy, Summer 2010 - CE Certification -- Ergos announces expansion into the European market place. Ergos is completing lab testing and certification requirements to acquire our CE Mark. When completed, Ergos products will have acquired the CE Mark for European re-sale. Distribution Inquires and Product Information requests should be directed through Ergos website at http://www.ergos.ca.
Edmonton, AB – Ergos NEW Website – Ergos new website is up and running. Our redesigned website includes a new modern look, a distributor look up function to find your nearest Ergos outlet and a complete listing of Ergos products. The website also offers downloadable PDF brochures and product information. Ergos invites you to visit our website, learn more about Ergos, our unique ErgoMate products and try your ErgoMate today.
###