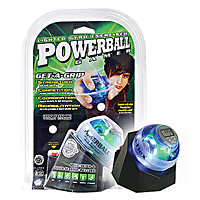 We are very excited for the E3 show and our partnership with Beamz Interactive
Los Angeles, CA (Vocus) June 16, 2010
Beamz Interactive, an interactive music products company that develops innovative musical instruments and music software to enable people of all ages and skill levels to play music, today announced a strategic partnership with Dynaflex International, a leader and innovator of fitness products, to begin distribution and market development of the Beamz product line into various retail and therapeutic channels. At this year's E3 Expo in Los Angeles, Dynaflex and Beamz Interactive will be jointly displaying their products in the Dynaflex Booth #5754. Dynaflex and Beamz products are unique, fun and have a visual appeal that engages users to "play the lights."
Dynaflex (Booth #5754) will be running a contest every two hours to challenge E3 attendees to a top speed play off. The top scorer of each challenge will receive a free Powerball (MSRP 49.95), the ultimate tool used by pro gamers to increase speed and dexterity. The leading daily scorer will take home a Powerball Gamer (MSRP $79.95). To sweeten the pot, Beamz will provide a beamz player (MSRP $199.95) to the top scorer of the expo.
At E3, Dynaflex will be demonstrating the Lighted Gyro Exerciser Powerball Gamer, created to give gamers an edge and help prevent against stress injuries and carpal tunnel syndrome. They will also display the new Platinum Powerball Fitness Gyroscope, which delivers up to 45 lbs. of dynamic resistance in the palm of one's hands with an added glitz of light…the faster you crank the gyro, the brighter the LED light show. This product also comes with a PowerDock docking station to immediately engage the device. Both products give users a greater range of motion, and increased flexibility, grip strength and dexterity. Beamz Interactive will launch the Beamz Player, a newly designed interactive music system featuring four laser beams that trigger up to 12 different instruments, music clips, sound effects, or vocals as you pass your hands through the lighted beams. Each beam controls a different pre-programmed instrument, rhythm or sound, so users can easily arrange and create their own music each time they play one of the 50 pre-recorded songs that come with the system – even if they have no prior musical experience. The Beamz Player also comes with ShadowBeamz, a fun, interactive game that allows users to improve their Beamz skills by mimicking prompted cues of when to break each beam, and 5 video songs to broaden the Beamz interactive experience.
"We are very excited for the E3 show and our partnership with Beamz Interactive," said Dynaflex President Tom Smith. "We share common target channels and have many synergies in the way we pursue innovation and develop products that have broad consumer appeal and therapeutic benefits. Our new PowerBall Gamer product will ready gamers for long play periods, giving them a precursor of fun before they even begin gaming; while the Beamz Player offers users a gaming component as well as the ability to interact with video and light to create and arrange a variety of music – bringing many benefits to people of all ages and with various music abilities."
"Dynaflex has done a great job getting their products in the hands of key retailers," said Beamz Interactive CEO Charlie Mollo. "We connected with Dynaflex at CES and recognized the many ways we could leverage both companies' core competencies and expertise. With innovation the focus of both of our businesses, it made sense to storm the gaming market at E3 jointly with our newest products. We are pleased to announce a formal partnership with Dynaflex to leverage their distribution channels and showcase the Beamz Player for the first time in their E3 Booth. We hope to show gamers at E3 a richer music experience that goes beyond RockBand, GuitarHero or DJHero. One that allows you to interact with music in a new extraordinary way."
About Dynaflex
Dynaflex International is a leader and innovator of fitness products. Whether you want to take your game to the next level, need to recover from a hand or arm injury, or simply want to sculpt, shape and tone your body, Dynaflex International has developed the Dynaflex Lineup of Gyros to get you physically where you need to be. If you're a weekend warrior, play a musical instrument or spend hours battling for video game supremacy... Dynaflex offers the most effective, addictively fun hand-held fitness machine on the planet. Dynaflex patented products can be found at every major retailer across North America, Europe, and Asia/Pacific. Key customers include: Modells, Saks Fifth Avenue, Macy's, TJ Maxx, Marshalls, Fry's Electronics, Bed Bath & Beyond, Sports Authority, Relax the Back, Gart's Sports, Dicks Sporting Goods, Academy, and Roger Dunn Golf. For more information, visit http://www.Dynaflexpro.com.
About Beamz
Based in Scottsdale, AZ, Beamz Interactive, Inc. is an interactive music products company that develops innovative musical instruments and music entertainment products to enable people of all ages and skill levels to play music. Its premier product, the Beamz Player, is an affordable new musical instrument that allows people to make music by simply passing their hands through any of the laser beams that each triggers different streams of musical notes and sounds. Beamz players can access over a hundred songs, both originals and top hits, for inspiration to create their own music. Beginners and children can play with ease, while more experienced musicians will be amazed at its limitless possibilities to arrange, compose, produce and record music. Powered by a computer through a USB port, the Beamz is easy to install and begin using – reading music is not required. The interactive songs included with the Beamz Player and the additional songs available on the Beamz web site were created using the Beamz Studio software. Beamz Interactive's technology portfolio includes multiple patents, patents pending and trade secrets covering interactive music, software, laser-based controllers, gaming applications, and related designs and devices. Beamz products can be purchased through http://www.thebeamz.com. Check out the Beamz video to see how it works or view the Beamz video gallery.
Contact Info:
Cathy Sperrazzo
Eye-To-Eye Communications, Inc.
858-565-9800
cathy(at)eyetoeyepr(dot)com
###