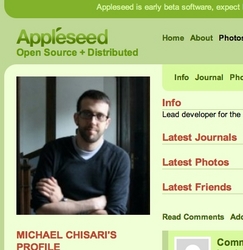 Appleseed is looking to decentralize social networking ... Users of one Appleseed website are able to interact flawlessly with users on any other Appleseed website
Chicago, IL (PRWEB) June 15, 2010
A privacy conscious, community driven alternative to Facebook, Appleseed has been gaining momentum in the aftermath of privacy issues with the popular social networking site. Appleseed is a social networking software that is decentralized and open source, with a beta version currently available for testing.
While Appleseed has been in development since 2004, the project has received renewed interest and gained over a hundred developers and supporters on Mozilla Drumbeat in only a week. Dozens of websites are testing the software, and Appleseed is designed so that each of those sites can communicate in an open, distributed network.
"Appleseed is looking to decentralize social networking in a way that is similar to how email works," said Michael Chisari, founder and lead developer of The Appleseed Project. "Users on different email services interact with each other easily, and users of one Appleseed website are able to interact flawlessly with users on any other Appleseed website."
Current sites like Facebook or MySpace are what the Appleseed website refers to as "walled gardens," since they only allow users to interact with other users of their service. The long term goal for Appleseed is to create a fully functional, easy to use, drop in replacement for Facebook, where users are no longer walled in to a single website. An open, distributed protocol will allow other software to connect to Appleseed's network, as well.
Using the website IndieGoGo.com for fundraising, Appleseed is seeking $10,000 in startup funding to help move the project to a 1.0 release. In the future, the plan is to form a non-profit 501c3 foundation to help steer the development of the software, similar to the Mozilla Foundation and the Firefox web browser.
Development is moving forward, with new features in the works, such as CSS/HTML5 theming, internationalization and translation support, and a third party API and MVC framework for developers to create their own Appleseed extensions.
To learn more about Appleseed, visit the website or view the Introduction Video on Youtube.
###