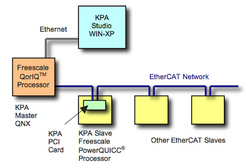 "We are delighted to feature KPA-enabled EtherCAT demos and sessions at our Freescale Technology Forum in Orlando."
Feucht, Germany (PRWEB) June 15, 2010
Koenig Prozessautomatisierungs GmbH (KPA) announces support for Freescale Semiconductor processors based on Power Architecture® technology in its EtherCAT Master and Slave stacks. Freescale processors based on Power Architecture technology have been a prominent CPU architecture for embedded applications in factory automation, process control and motion industries. "The KPA EtherCAT stacks are a natural fit in performance for the Power Architecture products", said Mr. Gerhard Spiegel, Manager at KPA.
Operation of the KPA EtherCAT master will be demonstrated while it is interacting with a KPA EtherCAT slave both running on Power Architecture processors at the Forum in Orlando this month. The master stack works with QNX Neutrino® RTOS, running on a QorIQTM P2 platform processor. The slave stack runs with QNX on a PowerQUICC® processor along with a KPA EtherCAT PCI card. The KPA EtherCAT Studio (EtherCAT configuration and diagnostics tool) is used for configuration and monitoring of network activities.
"Freescale Semiconductor has long served the industrial control and networking market, and we work closely with industrial solution providers such as KPA to provide seamless solutions for these applications", said Alexandra Dopplinger, Global Industrial Segment Lead, Freescale Semiconductor. "We are delighted to feature KPA-enabled EtherCAT demos and sessions at our Freescale Technology Forum in Orlando."
About KPA
KOENIG Prozessautomatisierungs GmbH (KPA) is a leading provider of EtherCAT protocol stacks and software tools worldwide. It was established in 1986 in Feucht, Germany and has been providing engineering services and products for process automation industries since inception. KPA joined the EtherCAT Technology Group (ETG) in 2004 and since then it has been focusing on products and services for the EtherCAT technology. KPA Partners Include: RADIC Technologies, Inc. (USA), easiTEC S.r.l. (Italy), Steinhoff (Germany). Visutech System (Belarus).
Contact
KOENIG Prozessautomatisierungs GmbH
Industriestr. 69, 90537 Feucht, Germany
Tel +49 (0)9128 725 652
Fax +49 (0)9128 725 407
marketing(at)koenig-pa(dot)com
http://www.koenig-pa.com
EtherCAT® is a registered trademark and patented technology, licensed by Beckhoff Automation GmbH
Freescale, the Freescale logo and PowerQUICC, are trademarks of Freescale Semiconductor, Inc., Reg. U.S. Pat. & Tm. Off. QorIQ, is a trademark of Freescale Semiconductor, Inc. The Power Architecture and Power.org word marks and the Power and Power.org logos and related marks are trademarks and service marks licensed by Power.org.
###