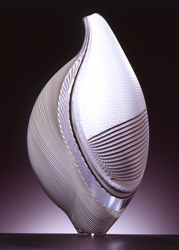 "(SOFA) offers contemporary three-dimensional art objects, from sculpture to furniture, straddling the line be-tween often disparate fields."—Interior Design
Chicago, IL (PRWEB) June 28, 2010
The 2nd annual SOFA WEST: Santa Fe, SOFA WEST: Santa Fe returns to the Santa Fe Convention Center, Thursday, July 8 - Sunday, July 11, 2010. Like its long-standing art fairs in New York and Chicago, SOFA's Western edition showcases three-dimensional, material-based works of art. SOFA WEST's Opening Night, Wednesday, July 7, is an invitation-only Special Member Preview for the Museum of New Mexico Foundation and SOFA VIPs. 2,000 guests attended SOFA WEST's inaugural Opening Night last year, with an estimated 10,000 visitors attending the fair during its four day run, exceeding projections by over 50%.
Mark Lyman, President of The Art Fair Company and Director of SOFA fairs says, "The 1st SOFA WEST last year was about eye-opening discovery—a base on which to build awareness of the extraordinary artistry at the Fair. SOFA's domain is the intersection of the fine and applied arts, artworks rooted in rich, artisan traditions, but like contemporary fine art, explore new forms, ideas and materials."
And they are affordable. Lyman continues, "Because these artworks have yet to be marked by a heavy preponderance of speculative buying and flipping, they are a solid investment. Strong sales at recent SOFA fairs reflect the continuing stability of this market." View CBS MarketWatch's report on SOFA CHICAGO called "A Sweet Spot in the Market."
An example of an artist who has taken an age-old artisan tradition to new heights of form and expression is Italian Maestro Lino Tagliapietra (represented at SOFA WEST by Holsten Galleries, Santa Fe, NM), who began working in the world-famous glass factories of Murano at age 12, and by age 21 had earned the coveted status of Maestro. In 1979 Tagliapietra came to the United States to teach and was so influenced by the expressive experimentation of artists here that he revealed the ancient Venetian glassblowing secrets to American artists such as Dale Chihuly (Donna Schneier Fine Arts, Palm Beach, FL) and Dan Dailey (Scott Jacobson Gallery, New York, NY), whose works are also on offer at SOFA WEST.
Or consider Richard Marquis (Bullseye Gallery, Portland OR), widely known as the "master of murrine" glass, whose works have more in common with postmodern object art than the applied arts. Or Klaus Moje (Bullseye Gallery), the 'father of the Australian glass movement," who continues to explore the expressive and techincal possibilities of fused glass in his colorful, abstract geometrical forms and panels.
Lyman reports that collectors and visitors to this year's SOFA WEST will be wowed by new exhibitors Joan B. Mirviss, Ltd., of New York, specialist in Japanese contemporary ceramics; and browngrotta arts of Wilton, CT, representing the world's foremost fiber artists. Top returning dealers include CLARK + DEL VECCHIO of Santa Fe (formerly Garth Clark Gallery of New York), presenting sculptural and conceptually sophisticated contemporary Native ceramics; Del Mano Gallery of Los Angeles offering the best of turned and sculptural wood art, and Charon Kransen, Ltd. of New York showcasing cutting-edge European art jewelry.
A strong contingency of Santa Fe dealers will also present in the fair including established fine art dealer, Linda Durham Contemporary Art; and new to Santa Fe, David Richard Contemporary, representing acclaimed artists working in glass like Venetian Laura de Santillana, whose work is presently touring US museums. Southwestern Association for Indian Arts (SWAIA) producer of Santa Fe's esteemed Indian Art Market will present four contemporary Native jewelers whose work transcends age-old tradition in highly expressive forms and materials.
Lyman continues, "Just as Western visitors to SOFA WEST were keen to learn more about the artworks at the fair, SOFA's national collector base was interested in learning more about the rich cultural and artistic heritage of Santa Fe and its surrounding Native American Pueblos." To this end, SOFA WEST 2010 will present Historic Bond/Contemporary Spirit: Collecting New Native Southwest Pottery, a pre-SOFA WEST, three-day event featuring presentations and tours of Pueblos, museum and private collections. The programming begins Tuesday, July 6, one day before SOFA WEST opens, and runs through Thursday, July 8 at the Santa Fe Convention Center. Fee applies.
SOFA WEST will again present a Lecture Series, free with paid admission to the fair, and its popular VIP Program for high-level clients of SOFA WEST participating galleries with ultra-exclusive events such as private collection tours. Special Events open to all SOFA attendees include an evening of food, wine and song at the Santa Fe Opera on Thursday, July 8, with special performances by the Opera's Apprentice Program (fee applies).
Lyman concludes, "We are delighted to be part of Santa Fe's high summer season of art and the 400th Anniversary celebration. We believe SOFA WEST will compliment and augment Santa Fe's exceptional art offerings, attracting even more art lovers and collectors to the 'City Different.'"
For more information and advance tickets, visit the SOFA website, and Press Room with press releases, high-res press images available for immediate download, as well as press credentials registration.
###