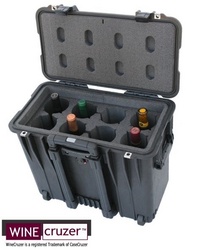 Montclair, CA (PRWEB) June 15, 2010
Sons and daughters guarantee dad a memorable Father's Day when they skip the tie and give a WineCruzer carrying case by CaseCruzer. The stylish line of mobile wine cellars protect favorite and vintage varieties from temperature fluctuation, high altitudes and sudden impact. And each bottle carrier travels with an unconditional (i.e., loving) lifetime warrantee.
Dads who enjoy wine, or consider themselves a connoisseur or collector, will never forget that moment when they open the lid of a WineCruzer carrying case and see two to 24 bottles encased in closed cell, thermally insulated foam. The interior and the indestructible hard-shell exterior guarantee that wines will never be damaged and will maintain proper temperature for six to eight hours – even at 30,000 feet. Needless to say, each case is TSA compliant.
The ergonomically-designed WineCruzer cases provide dad with an elevated wine experience, especially if he normally travels with bottles wrapped in his suitcase. No more worries about corks popping or glass breaking and damaging the tie or best-selling book that was last year's Father's Day gift. And by gifting one of many models with embedded wheels, dad can roll to his every destination – near or far – without a sweat. Oh, how wine lovers enjoy being suave.
If dad sees of himself as James Bond when on a wine-tasting mission, he may prefer the two-bottle attaché style WineCruzer. (Also, he should wear an expensive suit.) If, on the other hand, he sees himself as Good King Wenceslas, who was generous at every holiday, he may want a larger carrying case. Choose from models that accommodate four to 24 bottles. The wheeled versions (all but the snazzy 2- and 4-bottle briefcase styles) boast telescoping and hide-away handles for additional convenience.
In any case, all WineCruzer mobile cellars can be secured with padlocks. Yet when the time comes, quick access is a cinch with easy-opening corrosion-proof latches. All models also boast water and airtight seals so that wine is securely protected from wild swings in temperature or air pressure while in flight. For astronaut dads, please consult NASA.
Heavy duty core construction offers maximum protection against major risks of travel, such as impact, vibration and thermal shock. Yet each wine carrier is also sleek and lightweight, which makes it easy to catch a plane or a taxi or run in the rain with the wine bottles safely tagging along.
If, as the saying goes, it's the thought that counts, think twice before honoring dad with just a card, alma mater sports jersey or a subscription to a wine newsletter. Abstain from having to say, "Sorry for the lousy tie you don't really need."
Instead, Say "I love you" by gifting a WineCruzer lifetime achievement award.
WineCruzer mobile cellars by CaseCruzer: Because great wine and carrying cases always go well with great dads.
The CaseCruzer network of companies provides the community with the most comprehensive packaging solutions available on reusable carrying cases for applications such as Communications, Photography, Computers, Electronics, Medical, Transportation and other industrial shipping and carrying case uses. For more info about the wine carrier series, visit http://www.winecruzer.com; call 800-440-9925 in the U.S. or 909-613-1999 internationally; fax 909-465-5598; or write to CaseCruzer at 4665 State Street, Montclair, CA 91763
Contact:
Tatiana Briceno
(909) 613-1999 (800) 882-4730
pr(at)casecruzer(dot)com
###