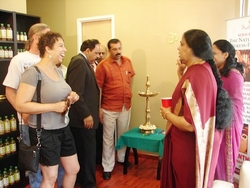 To propagate worldwide, Kerala Ayurvedic Panchakarma therapy
New Jersey (PRWEB) June 17, 2010
Santhigram Kerala Ayurvedic Co. of US Inc launched its fourth center in the US, at 84 Broadway, Denville, New Jersey 07834 (973-784-3027). Santhigram Kerala Ayurveda is an international Ayurvedic company offering genuine "Kerala specific Ayurvedic Therapies" for the well-being of mankind and is in the mission.
"To propagate worldwide, traditional Kerala specific Ayurvedic Panchakarma therapy for comprehensive health, rejuvenation of the body , to manage chronic and acute ailments through their established Authentic Ayurvedic Centers, which offer customer friendly services without compromising on the essence of Ayurveda , "The Science of Life"
Ayurveda and Yoga are time tested ancient systems of medicine that help to maintain perfect body and mind, which are now popular in most western cultures. There are many variations in the practice of these two medical disciplines , but the only place in the world where Ayurveda is still practiced in its absolute purity and dedication , which is nick-named 'God's own country', Kerala, India. Ayurvedic Physicians in Kerala have developed specialized techniques of Panchakarma, which in many ways is more than whole body purification therapy. Kerala has specialized in this therapy over the years and it has become the center of world attention. Large numbers of medical tourist from all over the world come to Kerala to avail these treatments.
Santhigram Ayurveda with its corporate headquarters in New Delhi, India, after a decade long successful operations in India, spread its wings to United Kingdom five years back. The recent popularity of Ayurveda in the United States and its continued acceptability and success in UK has encouraged the company to further extend its unique services to the United States. Santhigram launched its first US center in November 2007 and presently is running three centers successfully in New Jersey ( at Holiday Inn, Raritan Center, Edison (732-738-1580), another inside Bally Total Fitness Facility in East Brunswick (732-238-2003) and a third Center at Oak Tree Road, Edison NJ (732-662-5589).
The fourth US Center was inaugurated on Sunday, June 13, 2010 at 84, Broadway, Denville, New Jersey 07834 (973-784-3027) by the renowned Economist and business leader, Mr. Sreedhar Menon. Assemblyman of New Jersey Mr. Upendra Chivukula, Mr. Alex Vilanilam Koshy, former Global President of World Malayalee Council and Mr. Aniyan George, former Secretary of FOMA were the Guests of Honor.
During the occasion Mr. Sreedhar Menon spoke at length on his experience using Ayurvedic therapy to cure his knee joint problem for which knee transplant was recommended. He was greatly thankful to have managed his knee condition without surgery. With his own experience, he advocated the use of side-effect-free Ayurvedic treatment for very many health problems for which the modern system either recommends surgery or drug therapy, which may have side effects.
Assemblyman Mr. Upendra Chivukula during his speech , appreciated the efforts of Santhigram Inc , in bringing authentic Ayurvedic therapies to United States and assured that he will try his best to bring in proper legislation to support Ayurvedic system of medicine in New Jersy, in line with what is as being done in the state of Californa.
Mr. Alex Vilanilam Koshy and Mr. Aniyan George, two leading community leaders appreciated the efforts by Santhigram in propagating genuine Kerala Ayurvedic therapies in the USA . They extended their support to Santhigram in its mission to promote Ayurveda.
Mr. Varadarajan, a businessman of New Jersey, also spoke on the occasion and acknowledged Santhigram's authenticity by revealing the fact that how his wife has got lot of relief from her long-suffering knee-joint problems after undergoing Ayurvedic Therapies at Santhigram's Edison Center under the advice of Dr. Ambika Nair.
Mr. Gopinathan Nair, President & CEO of the company in his welcome speech has unveiled the plan of the company in launching one Center in Houston Texas in July 2010 and another one in Manhattan, New York , in August 2010. He also acknowledged the fact that with the recent joining of Dr. Ambika Nair, the renowned Physician of Complementary and Alternative Medicines from Delhi, who was also the personal physician to the former President of India, late Mr. K.R. Narayanan, Santhigram USA's client list has grown many folds and people from other States are also coming to New Jersey to avail Santhigram's specialized and result-proven services.
Dr. Ambika Nair who also spoke during the occasion expressed her satisfaction in getting the opportunity to take care of long standing health problems of a number of clients in United States.
Santhigram is an ISO 9001:2008 certified provider of Ayurvedic Services based in India with international centers in UK and now in the US and is specialized in "Kerala specific Ayurvedic Panchakarma Therapies". The current synthetic lifestyle of modern man has led him to many health problems. The stress and strain of daily grind is a major factor for many chronic diseases. Lack of exercise, polluted environment and climatically unsuitable food habits further adds to the problem. "Ayurvedic and Panchakarma Therapies" that Santhigram offers reduce the physical suffering from skeleto-muscular diseases, control several dreaded disabilities, ward off the middle age syndrome, possibly retard the aging process and provide unlimited curative powers for body and mind by repairing the worn out tissues revitalizing the body, increasing memory power, improving vigor and vitality and make oneself physically and mentally fit. Santhigram's specialized Ayurvedic & Panchakarma therapies also help to alleviate specific health problems like Back Pain, Neck Pain, Frozen Shoulder, Sinusitis, Migraine, Joint Pain, Arthritis, Insomnia, Depression etc, reduce obesity and mental tension, enhances body complexion and skin luster, corrects metabolism and deficiency and recharges the body and mind.
Santhigram has cut out an ambitious plan of setting up multiple Ayurvedic Centers in all the 50 states in the US and is looking for partners in every state in its mission to launch world class Ayurvedic centers.
For further details about Santhigram Ayurvedic Centers, please contact:
Gopinathan Nair
President & CEO
Santhigram Kerala Ayurvedic Co. of US Inc.
3050 Woodbridge Ave., Edison, NJ 08837
Phone: +1-732-915-8813, Email: info(at)santhigramusa(dot)com
http://www.santhigramusa.com
http://www.ayurvedasanthigram.com
# # #