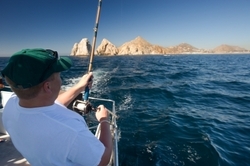 (PRWEB) June 16, 2010
Treat dad this Father's Day by letting him chose the destination for the next family holiday. Cheap flights comparison site Skyscanner reveals "daddy cool" destinations to bring joy to dads of the world.
Big Game Fishing, Nassau, The Bahamas
Dads love a bit of fishing, though probably most are more used to staring at a float for hours in the local reservoir. Instead, dads can get the trip of a lifetime in the Bahamas where, just four miles off shore, they can be fishing for marlin in 6,000 feet of turquoise water under a tropical sun.
Adrenaline Activities, Queenstown, New Zealand
Dad looks to inject some excitement into life, head to Queenstown for bungee jumping, jet-boating, white-water rafting, sky-diving or perhaps some southern hemisphere skiing. If you'd like to add even more excitement, the 36th annual American Express Queenstown Winterfestival is being held June 25 to July 4.
Thyssen-Bornemisza Museum, Madrid, Spain
For dads who are more culture vulture than adrenaline junky, book a few flights to Spain and head to the beautiful city of Madrid to experience one of the biggest and best art galleries in Europe. Here, Dad can experience: Dali, Degas, Gaugin, Carravagio and Constable. View the Willem de Pannemaker exhibit, The Mercury Series, now until September 26.
Track Day, Silverstone, UK
Silverstone, home of British motorsport, offers tuition and then solo laps in a single-seater racing car with 140bhp and a 0-60mph time of under five seconds. All this takes place around their Stowe Circuit – a track used for testing by top F1 teams. Grab Dad a cheap airfare to London and he'll be racing around the track in no time.
Yuri Gagarin Cosmonaut Training Centre, Star City, Russia
Head to the Cosmonaut Training Centre where fathers can experience weightlessness, spacewalk mission simulations and survival training. If money is no object then it's possible to organize a flight to the edge of space in a MiG-25. Status as 'World's Best Son or Daughter' is guaranteed after setting this up!
About Skyscanner.com
Skyscanner instantly compares online flight prices for over 670,000 routes on over 600 airlines. And with Skyscanner, users can just browse -without having to enter specific dates or destinations. Speak another language? Skyscanner is also available in 20 different languages: including Spanish, Chinese and French.
Press contact
Scot Carlson
http://www.skyscanner.com
Tel: 1-650-249-3747
###