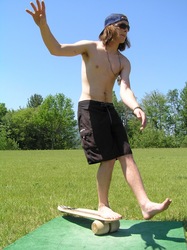 The Bare Foot Series is a surf-inspired deck design that simulates the bare-foot feel of surfing when water is not an option," says Brew Moscarello, founder and CEO of Vew-Do Balance Boards
Manchester, VT (PRWEB) June 17, 2010
Vew-Do Balance Boards, the leading manufacturer of high-performance balance boards, has introduced the Vew- Do Bare Foot Series Performance Balance Boards. Perfectly designed to help riders transition from their living room to the surf, they are ideal for surfers and water sports enthusiasts.
Developed with a surfer in mind, the Bare Foot Series consists of two uniquely designed models that are guaranteed to help any board sport enthusiast reach their maximum potential when being on the water is not an option.
With their Surf inspired deck designs, high gloss polyurethane finish and an EVA foam stomp pad of the Switch Back, these boards are ideal for simulating that bare-foot feel synomonous with surfing, wakeboarding, kiteboarding and more.
The 38" deck of the LB Long Board is designed with the traditionalist Long Board Surfer and Skater in mind, while the Short Board Switch Back Model meets the quick turning, thrashing needs of todays hottest short board riders. With over 20 years of proven balance board design and technology built into every board within the Vew-Do line, our New Bare Foot Series are sure to sell as well as perform. Get em while they're HOT!
The Short Board Switch Back:
Whether you're pushing a pencil or pushing the envelope, the New Vew-Do Switch Back is the ideal piece of dry-land training equipment you can't do without. Designed to meet the demands of today's thrashers, this short board surf inspired deck, combined with its quick angled tapered rock, EVA stomp pad and interconnecting rail system allows for quick edge to edge control, maneuverability, and performance. So whether you're looking to gain that competitive edge on the water or just chill-en in the lounge with your bro's, the Vew-Do Switchback can make it happen.
31 5/8 " deck - 8.5" waist - 21 " running length - 4 inch radial rock diameter EVA foam tail
Retail Price - $144.95
The Long Board:
This endless summer classic is a must have for any long board enthusiasts regardless of your sport. With a 38 inch deck, 5.5 inch diameter rock and 28 inch running length, the LB will far exceed your wildest balance board expectations. Not only is this board ideal for hang-en ten while perfecting walk over tricks but with its radial tapered rock and interconnecting rail system, this set up allows for full rotational training, maneuverability and most importantly fun.
38" deck - 9 inch waist - 28" running length - 5.5" radial Rock diameter High Gloss Urethane finish
Retail Price - $149.95.
Vew-Do Balance Boards
Vew-Do Balance Boards are a balance training devices ideal for the skateboarder, snowboarder, soccer player or anyone looking to be stronger, faster or better in their sport of choice. A Vew-Do Balance Board disrupts your center of balance using dynamic and multi-directional motion, forcing you to use and develop all three of your body's balance systems. In addition to improving balance recovery skills, proprioception and other benefits, balance boards also add physical conditioning, strengthening of muscles, tendons and ligaments, calorie burning and enjoyment to your training routine. Since the introduction of Vew-Do Balance Boards in 1990, countless numbers of pro athletes have begun implementing Vew-Do Balance Board training into their daily workouts. From professional skaters, snowboarders, pro soccer stars, pro leagues like the NFL and NHL to several U.S. Olympic Training Centers, athletes are using Vew-Do boards for sports-specific balance training. Based in Manchester, Vermont, Vew-Do was founded in 1990. Committed to the continued growth of the sport of balance boarding, Vew-Do develops the most technically-advanced boards on the market. Vew-Do boards are created from renewable resources and manufactured by hand in the US. For more history and product specifics, please visit Vew-Do.com
PRESS – For more information contact
Ann Pechaver/Instinct PR 802-578-7512
# # #