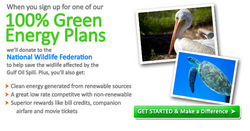 Houston, TX (PRWEB) June 16, 2010
The Gulf Coast Oil Spill could be considered the worst oil spill in history and has affected many of the animals who consider the Gulf their home. Bounce Energy, a Texas retail electricity provider, has launched a new promotion in an effort to support the oil spill cleanup in the Gulf Coast. The Texas retail electricity provider will be donating to the National Wildlife Federation (NWF) for every customer that signs up for its green energy plans in addition to donating $1 for each new fan/"like" on Facebook from now until the end of the month.
The Gulf oil spill that was caused by the April 20, 2010, explosion of an offshore oil rig has put local wildlife in danger. Estimations calculate that the oil rig is leaking over 70,000 barrels of oil a day, putting numerous sea turtles, dolphins, and migratory birds in danger. The National Wildlife Federation's Gulf Restoration Program is coordinating volunteer and restoration efforts to protect and monitor animals at risk.
To help with the oil spill cleanup, Bounce Energy will donate money to NWF for new customers who sign up with its green energy plans. Bounce Energy provides two energy plans with cleaner, safer energy resources: Blue Sky Fixed 6 and Blue Sky Fixed 12. The green plans are powered by 100% renewable resources from solar, hydropower, biomass, and wind energy. Bounce Energy will donate $25 for new Blue Sky Fixed 6 customers and $50 for Blue Sky Fixed 12 customers. In addition to helping in the cleanup of the Gulf and helping the wildlife threatened by the oil spill, customers are also automatically enrolled in the Bounce Energy Rewards Program where they can receive bill credits, companion airfare, movie tickets, and even free electricity. Current customers and their friends can help donate to the cause by "liking" or becoming a fan of Bounce Energy on Facebook. For each new fan and "like" Bounce Energy will donate $1 to NWF.
Not only will customers be powering their home with 100% clean, renewable energy, but by signing up with a Bounce Energy green plan, they will also be protecting over 400 species of wildlife that are affected by this tragedy.
About Bounce Energy
Bounce Energy is a privately-owned and full-service retailer of electricity in Texas, offering affordable, comprehensive, and innovative plans to help customers easily manage their electricity service. As one of the fastest growing Texas electric companies, Bounce Energy differentiates by providing "more than electricity" -- with a superior rewards program, additional consumer-centric offers, a surplus of customer service touch points and more.
# # #