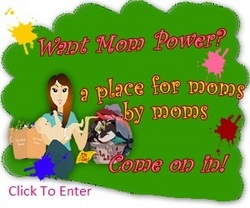 Moms are the cornerstone of the family and the community, and we're happy to give moms a place to come where they can spend 10 minutes and recharge themselves for the next round of demands
Liverpool, NY (PRWEB) June 21, 2010 —
It takes being a mom to understand what moms need and want, and that's why Shadra Bruce and Tiana Green, two sisters with ten kids between them, have joined forces to help moms around the world manage everything they do just a little bit easier. From breastfeeding to stepparenting, dating to discipline, these two moms have experienced it all, and they're sharing their experiences with tips, ideas, and some incredible bargain shopping – with prices so low the items are referred to as "quickies" because they fly off the shelves so fast - at the newly launched http://www.IGotMomPower.com.
"We have always turned to each other for advice when it comes to raising our kids, and we both love to write. It was a natural evolution for us to reach out to help others," explains Tiana. "We understand the challenges of trying to be a good mom while still balancing all of the other demands of life."
I Got MomPower is a unique site. Not just a mom blog and not just a store, Shadra and Tiana have transformed their experiences raising kids, stretching budgets, and building relationships into a one-stop opportunity for moms to find information, get a great deal, or find someone to talk to about a pressing issue.
"Our goal with the site," explains Shadra, "is to develop a community of moms. We want to tailor the site to meet moms' needs. If there's something a mom is shopping for that she wants the best possible deal on, all she has to do is let us know and we'll go to work finding it for her. If she needs advice and it's not on the website, all she has to do is write to us and we'll reach out and share what we know or find someone who can help."
I Got MomPower is a fast-growing community for women and mothers of all ages who want a place to go when they need to connect. The personal stories the sisters share are designed to break down the barriers and allow moms to feel good about themselves whether they're having a bad mom day or want to celebrate the latest milestone.
"Moms are the cornerstone of the family and the community, and we're happy to give moms a place to come where they can spend 10 minutes and recharge themselves for the next round of demands," says Tiana.
Visit I Got MomPower at http://www.igotmompower.com. Come on in!
###