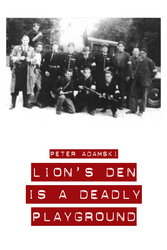 Pittsburgh, PA (Vocus) June 16, 2010
Lion's Den Is a Deadly Playground by Peter Adamski has been released by Dorrance Publishing Co., Inc
Being Polish in Europe circa 1939 was trouble enough, but being Polish and Jewish at the same time certainly spelled doom for anybody living amidst the clutches of Hitler's military might.
Who would think, then, that a young man barely in his teens would not only survive his share of the the holocaust, but instead rode the back of his race's tormentors, right from their days of glory and down to their steep descent into ignominy?
In Lion's Den is a Deadly Playground, Peter Adamski bears down on the details of his existence which bring fresh life to the stark realities of the past World War, using his pen to capture in canvas the vivid moments of his days in the Polish ghettos, in the sickbays of German troop camps serving Hitler's will, in the desecrated villages of the conquered lands, in the skeletons of burned houses, and in the treacherous roads and forests nearby, all the while not forgetting that even the most tragic circumstances could produce their own comic scenarios for the readers' relief.
Lion's Den is a Deadly Playground highlights one man's will to survive, while exposing the frailties of human culture that could trap the human mind to produce criminals and victims in their most horrifying forms.
Peter Adamski, a native of Poland, was born on October 22, 1925. He presently lives in Sydney, Australia, where he built his career as an industrial chemist. He is a World War II veteran; the story told in the book recalls events of the historic war as he saw it. Apart from chemistry, he is also deeply inclined to music, proven by his performances as a concert pianist in England.
Lion's Den Is a Deadly Playground is a 208-page paperback with a retail price of $19.00. The ISBN is 978-1-4349-0543-7. It was published by Dorrance Publishing Co., Inc of Pittsburgh, Pennsylvania. For more information, or to request a review copy, please go to our virtual pressroom at http://www.dorrancepressroom.com or our online bookstore at http://www.dorrancebookstore.com.
###