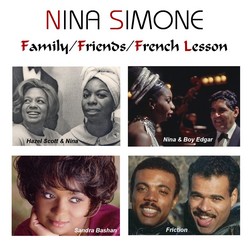 Chicago, IL (PRWEB) June 17, 2010
KES Music & Video Distribution and Andy Stroud Inc. successfully inked a distribution deal today. KES Distribution will handle the worldwide distribution of the Nina Simone Family Friends French Lesson CD. KES will provide product placement and fulfillment of this timeless classic. This CD album has been released on the Andy Stroud Record label. The CD will be made available at various retail stores through out America and Key foreign countries. Family Friends French lesson is a compilation of rare Nina Simone performances and other performances of her Family, Friends and a French Lesson. This first time release of these performances will provide a rare opportunity for Nina's worldwide audience to hear and appreciate the "High Priestess of Soul."
Family: R&B group FRICTION include Andy Stroud's two sons, Andy Jr. (Bucky) and Renny Stroud along with two of Bucky's U.S. Army buddies Lillad "Maverick" Gaither and Al "Monster Man" Hazard. FRICTION lent a hand writing "Bar-B-Que" "Fantasy" and "Papers". Cousin Sandra Bashan, a new and bright singer, performs "Misty"and " Whatever Lola Wants".
FRIENDS: Legendary Hazel Scott, classically trained (Julliard) pianist and singer, numerous Carnegie Hall concerts (very similar to Nina). The one and only recording of these two jazz legends playing piano and singing "Nobody Wants You When You're down and Out ". A collector's dream!
Boy Edgar was one of Holland's outstanding jazz musicians, conductor, pianist, trumpeter, arranger and leader of the Boy Edgar's Big Band. He was Also a world famous neurologist (brain surgeon) who was strongly influenced by Duke Ellington and the Ellington sound can be heard in "Amsterdam Jam" and "It Don't mean a Thing" when Boy backs up Nina's singing.
FRENCH LESSON: A recording of an actual French Lesson where the listener is able to hear Nina and her French tutor practicing the correct pronunciation of the French lyrics of Jacques Brel's "Ne Me Quitte Pas" followed by Nina's practice performance. A one of a kind record. The listener can also hear Nina's excellent use of French in "Exactly Like You" and French verbal exchange with her French speaking audience.
For more information contact:
National Marketing Media Relations
312-321-6256
http://www.kesdistribution.com or email info request to: lori(at)kesnetwork(dot)com
Media Contact:
Taylor Johnson
312-321-6256
500 N. Michigan Ave. Suite 300
Chicago, IL 60661
Tel. 312 321-6256
Fax 509-355-2183
###