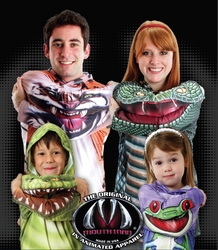 Visitors can buy all 11 hoodie shirt designs for a special show-only price of just $20.00
Benicia, CA (PRWEB) June 17, 2010
Mouth Man LLC, creator of unique, patented animated hoodie shirts, will be traveling California this summer and beyond to showcase its totally innovative designs that feature a roaring open animal mouth when the wearer's arms are crossed.
Starting this summer at the Alameda County Fair and continuing to the California State Fair in Sacramento, Mouth Man plans to spread the word to Northern California before heading into fall at the Harvest festivals in Southern California from Del Mar to Ventura and back up to the Bay Area in San Mateo, Pleasanton and more.
Visitors can buy all 11 hoodie shirts in designs including: frog, dog, gecko, raptor, gator, cobra, shark, T-Rex, orca, XOXO and tiger for a special show-only price of just $20.00 for child shirts and $30.00 for adult shirts. All hoodie shirts are hand-crafted using a 100% polyester sports jersey material and are made entirely in the United States.
Interested visitors can add Mouth Man on Facebook to view upcoming events or email to recieve a full listing. To see Mouth Man's full product line and company history, go to http://www.mouthman.com.
Media Contact:
Rachel Glas
4271 Park Road
Benicia CA 9510
707-751-3888
707.816-1697
###