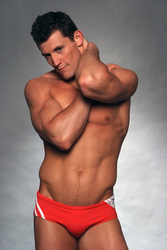 You guys have one of the best selection in men's swimwear and the prices are great too!
Bradenton, FL (PRWEB) June 17, 2010
Mensuas Annual Swimwear Sale at Mensuas. Save 20% off all in stock swimwear at Mensuas. Sale days are Thursday June 17, 2010 through Monday June 21, 2010 at midnight ET.
Save 20% off all Bumgear, California Muscle, Dietz, Male Power, Mensuas, N2N Bodywear, Sauvage, Speedo, Timoteo, Unico amd Uzzi swimwear in bikini, thong and boxer styles. Mensuas carries over 50 different swimsuits, every man can find there favorite swimwear at Mensuas.
Mensuas customers can chose to pay by credit card or PayPal for their purchases. Once payment is received for their items purchased, order confirmation will be sent to the customer. When an item(s) is ready to ship, a shipping confirmation notice will be sent to the customer. Our new customer service number at (866) 964-8765 is available for customers to place an order, inquire order status, or just ask a question. Our customer service hours are Monday-Friday 10:00 AM to 4:00 PM EST.
Mensuas carries brands you know and trust by Brief Underneath, Bumgear, California Muscle, Candyman, Clever, Delio Dietz, Gia, Gigo, Joe Snyder, Magic Silk, Male Power, ManView Bodywear, N2N Bodywear, Pistol Pete, PPU, Sauvage, Speedo, Timoteo, Tulio, Unico and Uzzi.
Our customers' satisfaction with the products they order and the amount of time it takes to receive their order is number one priority at Mensuas. Mensuas wants to become number one shopping source for customers to order their underwear and swimwear for themselves or the man in their life. Mensuas strives to carry only the top quality brands of underwear and swimwear at their website. Steve from Miami says, "I have to look HOT at the beach, especially when living here in South Beach, Miami. I've got a lot of compliments; both from many guys and girls, not only for my physique, but also for my swimwear. I told them, I workout at the gym, but my swim wear, I got it at Mensuas.com".
Mensuas has been serving the men's underwear and swimwear market for over 10 years. They are located in Bradenton, Florida, Phone (866) 964-8765.
# # #