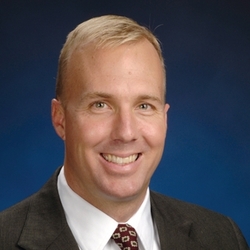 We are delighted with Paul's success both with Hide-Away Storage and also with the Navy
Sarasota, FL (PRWEB) June 17, 2010
Paul Feikema, the operations director for the Hide-Away Storage self-storage facilities in Southwest Florida, has been promoted to commander in the U.S. Navy reserve. Commander Feikema has spent a combined 17 years in the Navy on active and reserve status, including nearly a year in Iraq in 2004.
Feikema was promoted at US Central Command (CENTCOM) Headquarters at MacDill Air Force Base in Tampa, on June 1, by Captain Lewis Harrison, the CENTCOM Deputy Engineer. Feikema served on active duty in 2009 at CENTCOM, managing engineering issues in Iraq, Afghanistan, Pakistan, and other locations in the Middle East.
His active duty assignments before his reserve duty included the island of Guam, Philadelphia and Puerto Rico. Feikema is a graduate of Bradenton Christian School, and Florida State University's engineering program. He also earned an MBA from La Salle University in Philadelphia, PA.
His duties at Hide-Away Storage (http://www.hideawaystorage.com) encompass overall operational control of the company's 10 self-storage facilities, which are located in St. Petersburg, Ellenton, Bradenton, Sarasota, Ft. Myers and Naples, FL. He also will have control over the new Xpress Storage (http://www.xpressstorage.com) facility on Fruitville Road in Sarasota, which is separately owned from the Hide-Away Storage facilities but managed by the same management firm.
"We are delighted with Paul's success both with Hide-Away Storage and also with the Navy," said Steve Wilson the managing partner of the Hide-Away Storage system. "Handling what are, essentially, two simultaneous careers is not easy, but Paul seems to be able to accomplish this demanding task."
About Hide-Away Storage
Hide-Away Storage operates 10 traditional self-storage facilities and two Mobile Storage warehouses on the Southwest coast of Florida. The self storage facilities are located in St. Petersburg, Ellenton, Bradenton, Sarasota, Ft. Myers, and Naples, Florida. Hide-Away delivers portable storage units in Pinellas, Manatee, Sarasota, Lee and Collier Counties. The company also provides full-service moving of household goods. Hide-Away has approximately one million square feet of storage space, and is headquartered in Sarasota, Florida. The company was started in 1977 in Bradenton by Steve Wilson, who remains the managing partner.
For more information on Hide-Away's storage services and pricing, visit: http://www.hideawaystorage.com
Contact: Hide-Away Storage
Meisha Wilson
Hide-Away Storage Services
941-755-1166 ext. 1004
# # #