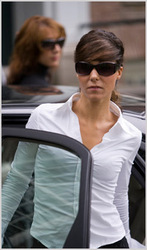 Time is money; and money is time.
Laguna Niguel, CA (Vocus) June 16, 2010
Wise business men and business women know the importance of time in managing and operating a successful business. Decision makers will agree that renting a limo in Orange County could save you energy, release stress by eliminating the hassle of dealing with reckless drivers and increase your return on investment by investing time on the road to complete that business proposal. According to the American Community Survey completed by the US Census Bureau: Riverside, Orange and Los Angeles County have the longest commute times on the west coast. On average, drivers spend nearly twenty-nine minutes commuting one-way and it is believed that we spend 100 hours per year driving to and from work. You do the math.
As the economy leads more corporations and associations in Orange County to rethink their budgets and current images when it comes to spending money on meetings, events and marketing sponsorships, many are discovering they can immediately reduce costs and convey a fiscally responsible image with using a chauffeuring limo service in the OC area.
Limo rentals in Orange County and chauffeured executive rentals are cost-effective and ideal for the corporate executive with a tight schedule that is constantly short of time. Why travel stressed or tired when you can have the convenience and comfort you need to be shuttled from local airports (LAX Airport, John Wayne Airport, Long Beach Airport, Burbank Ontario Airport), to hotels to important business meetings conveniently transforming driving hours to well spent useful hours. We are familiar with the well-known saying "Time is money; and money is time."
Utilizing a limo company in Orange County is not much more than taxis and more comfortable than any public transportation service offered. Taxis and public transportation are problematic and unpredictable in terms of service received for the amount of money you pay or time spent traveling.
Whether business or personal the average limousine chauffeured drivers are professional and courteous and trained to anticipate the needs of a busy traveler or overwhelmed corporate decision maker. Be decisive about your commute or your next business trip, plan with DLS Transportation (Distinguished Luxury Services).
# # #