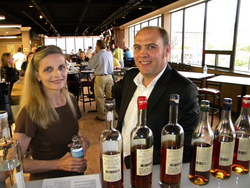 "Armagnac is the oldest wine based eau de vie in France. It is produced in the heart of Gascony, Southwestern France, by a single distillation of white wine in an Armagnac alembic and then left to age for many years in oak barrels." –BNIA web site
Lakeville, MA (PRWEB) June 17, 2010
Every 700 or so years the folks from Gascony like to get together and celebrate one of the unique attributes that separates their region from all the others in France. The special attribute we are talking about is Armagnac, the oldest distilled brandy in France. This Septicentennial celebration is taking place throughout 2010 in four of the world's major cities; London, Chicago, Moscow and Paris. This past week was Chicago's turn to celebrate and share information about one of the world's oldest and finest spirits. Events started on Thursday June 10th at the South Loop location of Binnys, Chicago's largest retail liquor chain. Brett Pontoni, Binny's Specialty Spirits Buyer was on hand hosting two guest speakers for a seminar on Armagnac. Heavenly Spirits' Christine Cooney and Jerome Delord of the Delord Armagnac house talked about the history and science of Armagnac and shared stories about the Delord family distillery.
On Friday, June 11 the Armagnac celebration joined forces with the World Wine Meeting Convention held at the Downtown Chicago Embassy Suites. Events of the day included Armagnac Ambassador May Matta-Aliah conducting a seminar on the subject of Armagnac to a standing room only crowd, a walk-around tasting of wines from all over France, a formal dinner and a knighting ceremony. The walk-around tasting included a separate room devoted to Armagnac, representing 9 of the top Armagnac producers and over sixty distinct Armagnac products. The list of producers include: Castarede, Chateau De Laubade, Chateau Du Tariquet, Cles Des Ducs, Comte De Lauvia, Dartigalongue, Delord, De Montal, and Marie Duffau.
The day was capped with a Gascony inspired dinner attended by over 350 wine and spirit devotees. The menu included Foie Gras, Smoked Duck, Confit de Canard, fingerling potatoes, a plate of French Cheeses served with Fig Chutney, and finally a Galette de Pommes. Each person attending found a souvenir French beret on their seat with the Armagnac logo embroidered on the front.
Following the dinner, four individuals were formally knighted into the Armagnac Brotherhood Compagnie des Mousquetaires and presented with sashes, medals and diplomas for their long standing support in representing the quality and history of the Armagnac region and spirit. Two of these inductees were nominated by Heavenly Spirits; Brett Pontoni, the Specialty Spirits Buyer for Binnys and David Soto, Former Spirits Buyer for Sam's and now with Binnys. Both men were recognized for their work to educate their clients and promote the virtues of Armagnac.
As the leading importer and promoter of Armagnac in the USA, Heavenly Spirits of Lakeville MA played a supportive roll in organizing the event. "We were thrilled to be part of such a notable and historic event." said Heavenly Spirits' Co-owner, Daniel Cooney. "And we were pleased to see so many industry associates and friends in attendance, added Co-owner and Director of Sales, Christine Cooney. "For example: Lou Bock, our CA distributor, Ed Hamilton, the Minister of Rum, and Jerald O'Kennard of the BTI in Chicago were all here, along with many other industry professionals and Armagnac fans. It was really a great evening."
Heavenly Spirits, based in Lakeville, MA, specializes in the importation and distribution of exceptional French spirits, including: Armagnac, Cognac, Calvados, Absinthe and Rum. Photos of the 700 Years of Armagnac event can be found on the Heavenly Spirits web site.
# # #