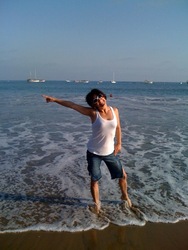 We are a fun people who love water and toilets.
West Chester, PA (PRWEB) June 21, 2010
New online company Save Water Project creates an online community around their water saving toilets. The Save Water Project, believes that a person must enjoy and love the water in order to respect and conserve it. They feel that their are many jovial water lovers and we wanted to create a community for them.
In order to kick off the Save Water Project, this new company started a funky promotion by having their customers send in pictures of themselves enjoying the water. In return the patrons are receiving 20% off their toilet purchase.
Water lover and owner Chris Chambers says, "We are a fun people who love water and toilets."
The Save Water Project sells dual flush toilets which have two buttons on the top. One button is for a full flush and the other is a half flush. This type of toilet is popular around the world and is starting become more common in the US. Dual flush toilets use less water than most toilets. By replacing an old toilet with a new dual flush toilet, a water lover can save over 7,000 gallons of water per year. This will not only save money but will put less stress on our water supply. Needless to say water lovers have their own toilet.
You can purchase and check out the Save Water Project's unique toilets as well as some water lovers on Savewaterproject.com. Save Water Project distributes throughout the United States.
###