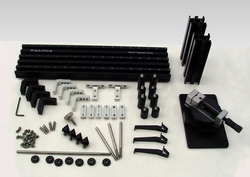 Tim Fantauzzo of Certified Comparator Products Inc. states: "The FixOptix modular fixture system is popular with our customers. The modular approach provides simple solutions to stage a wide variety of part shapes on our optical comparators".
Commerce Township, MI (PRWEB) June 17, 2010
FixLogix LLC has developed a totally new modular fixture system for optical comparators. The new FixOptix system utilizes a linear T-slot design that is both versatile and economical. The component kit is configured to allow the operator to mimic traditional optical fixtures or create an infinite variety of entirely new styles of fixtures. This simplifies optical inspection of a wide range of part shapes that are difficult to hold with traditional comparator tooling. The system may be purchased as a general purpose kit, or the fixture plates and individual components may be purchased to create economical semi-dedicated fixtures for higher volume inspection requirements. The fixtures may be retooled later for other part holding applications, resulting in further cost reductions in inspection tooling.
The T-slot system offers infinite positioning of locating components, which simplifies fixture construction. The T-slots are marked with laser engraved reference scales to simplify repeat setups. The FixOptix components are compatible with the FixLogix fixture systems for CMMs (Coordinate Measuring Machines), and vision systems.
The FixOptix fixture and the other FixLogix systems have been adopted by a number of OEM measuring machine manufacturers, both domestically and in export markets. The price/performance value of the fixture system enhances the functionality of the measuring machine by providing a more "turn-key" solution. The measuring machines are delivered with modular tooling that allows automated inspection routines to be implemented immediately without the long lead times or expense of custom fixtures.
FixLogix LLC was formed in 2007 to produce and sell modular fixture systems for metrology and other light duty part-holding applications. The company also produces modular fixture systems for CMMs, vision systems, 3D scanners, and other surface profiling systems. The company maintains an e-commerce website.
# # #